Recipe : Pork and citronella omelette
Let's go for a recipe inspired by a country shared between Asian and French gastronomy: the pork and lemon grass omelette from Laos!
Ingredients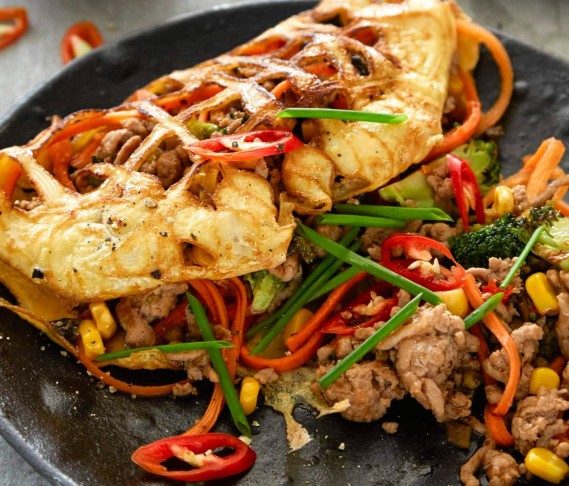 (For 4 people)
3 eggs
1 onion
Salt / Pepper
2 sprigs of citronella
300g of plain sausage meat (10.6 Oz)
Soy sauce
If you need help converting the units: https://mykitchencalculator.com/kitchencalculator.html
How to do the pork and citronella omelette ?
1. On your kitchen board, chop the citronella, then the onion after peeling and washing it.


2. Take a bowl and put the meat, onion, lemongrass, 1 tbsp of nuoc mam, and 1 tbsp of soy sauce in it.


3. Add salt and pepper and knead with your fingers.


4. Break the eggs into a bowl and beat them into an omelette, then season.


5. Take your crepe pan and cook 4 very thin omelettes.


6. Remove them once cooked and place them on a sheet of aluminum foil next to each other.


7. Put some of the previously prepared filling on top of each omelette, then roll the omelette up or fold it into a triangle like a french crepe. Close each omelet with the aluminum foil, tightly enough, and steam them for 30 minutes.


8. Before serving, remove the foil, cut the omelet into medium slices on the bias, and serve with fragrant rice, dried tomatoes, noodles, or seasonal vegetables.

C'est prêt! Bon appétit!


Tips: If you like your meat very cooked, feel free to brown it before adding it to the omelet. For sweet and savory flavors, you can also add a teaspoon of honey to the meat!
Source: https://www.cuisineaz.com/recettes/omelette-laosienne-au-porc-et-a-la-citronnelle-67816.aspx