Past Exhibitions
Are you interested in exhibiting at the Alliance Française de San Francisco?
How to exhibit in our premises? How to exhibit in our premises?


PAST EXHIBITIONS
Stéphane Blanchard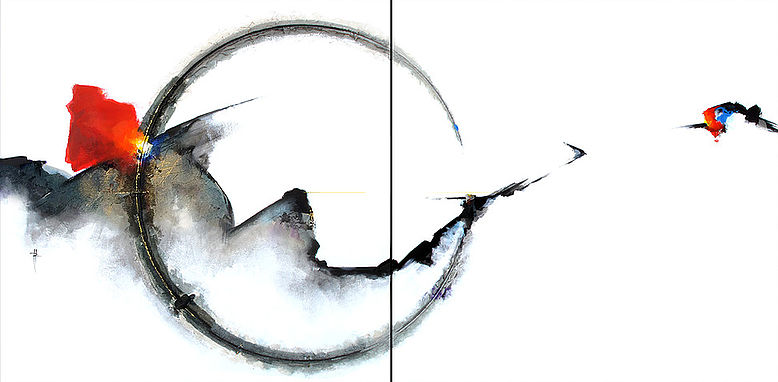 The Alliance Française de San Francisco invites you to discover Stéphane Blanchard on display in October, during a art opening and a live performance on October 30th.
Né à Poitiers en 1967, Stéphane Blanchard intègre l'académie de Poitiers avant de se rendre à Paris puis à Londres.
En 1992, après un bref séjour au Canada, il arrive à San Francisco, ville aux multiples facettes où s'exprime un melting pot de cultures différentes mais convergentes, la plus européenne des villes des Etats-Unis. A San Francisco, la composante asiatique devient pour l'artiste, une source d'inspiration d'un point de vue professionnel mais aussi personnel. 
 Cependant, sa première influence est celle des fresques de la renaissance italienne; des années de perfectionnement à la technique minutieuse et à la couleur élaborée presque métaphysique créent la première plateforme du peintre qui, dans la fusion avec le nouveau monde, trouve son inspiration en créant ce que sera la technique qui le démarquera en le libérant des lignes formelles de la figuration aux lignes atemporelles de l'abstraction.
Matière, forme, couleur, dimension, profondeur… 
La lumière vient de loin, de l'hypersensibilité à la couleur, à sa connaissance intime, comme une seconde peau qui l'enveloppe.
Un travail minutieux, un crescendo naturel qui part de notes crues voire cruelles, à celles presque imperceptibles d'une aube reflétée où les rayons du soleil filtrent à travers mille fissures, créé un jeu d'ombres et de lumières changeant selon le rythme du jour. C'est le concept de la matérialisation temporelle. 
Le temps est un des sujets de recherche de l'artiste, comme matérialiser l'invisible, comme répondre avec des formes, couleurs et images hors des sentiers appartenant au domaine du "connu", à l'évolution de l'homme ? Blanchard a sa propre vision, elle est faite d'harmonie, de distance, d'élégance. Aucune touche de couleur, de lumière et de matière n'est posée par hasard sur la toile.
Aucune restriction; au contraire, son travail évoque les grands espaces, l'infini, l'audace
Plus d'information: https://www.s-blanchard.com/?lang=fr
ENTRE LES MONDES by Loïc Riou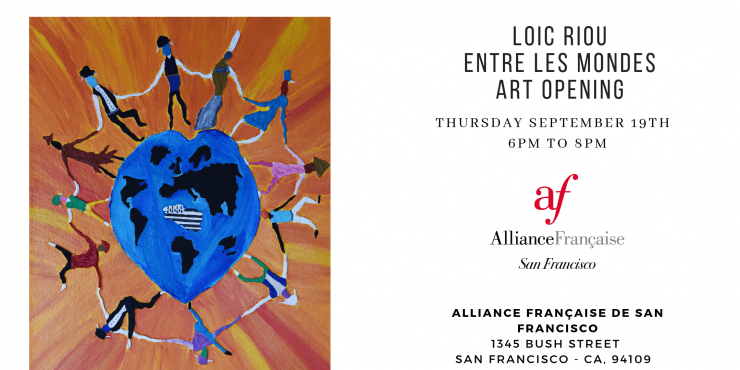 The Alliance Française de San Francisco invites you to discover Loic Riou on display in September, during a art opening and a live performance.
Slameur, peintre, cinéaste, l'artiste plasticien Loïc Riou est hors-norme.
Engagé dans l'entraide et  l'éducation, c'est suite à différents voyages, entre autre sur le continent Africain, qu' il a clairement l'envie de réaliser un travail qui rassemblerait des facettes des cultures Africaines et Bretonnes dans une démarche transversale et une approche pluridisciplinaire.
"C'est se frottant aux autres cultures que je me suis rendu compte de l'importance de la mienne et que quand on a tout perdu c'est tout ce qui nous reste, nos racines comme seul rempart au bulldozer de la mondialisation et de l'uniformisation. « 

"En Afrique comme en Bretagne, la famille c'est le ciment sur lequel on s'appuie pour avancer, nos cultures respectives ont cela en commun avec le respect des anciens et du sacré. Ce sont des choses qui me touchent et que j'essaie de relater dans ma démarche artistique qui reste indépendante et authentique, je peins loin des sentiers battues, en campagne finistérienne le plus souvent ou la mer est ma compagne et la toile ma confidente. »
LES PORTES DE PARIS by Joachim Lombard
Joachim Lombard, 45, has an atypical career. He currently works as a live speech to text transcriber and as a translator. He has also directed a couple of successful documentary films, has been a real estate agent in the south of France for a few years, the assistant of a New York art collector, and a child / teenager actor both in cinema and in the theatre. You can google his name to see the films that he has done. He made a living with his B&W photography in New York from 1996 to 2002, and started again to work as a photographer in 2012.


Joachim Lombard is a self-taught photographer who has built an artistic project around the theme of the door. The first of all was a washing machine in New York. Grips, angles, knockers, chaste or conquering doors, he continued his exploration in Paris, setting his goal on the infinite diversity offered by his subject. To symbolic or even ethnological explanations, Joachim Lombard opposes the pragmatism of his approach: the discipline of the unique choice of the object that he imposed on himself and which could be likened to a constraint on the contrary opens up the field of possibilities. The lines of his photographs are clear, the perspectives rigorous, contrasts powerful or subtle.
2500 photos of doors were taken in the streets of Paris between 2012 and 2016. He undertook the same approach in NY in 2018, still in film, with the films tri-X of 36 poses, a housing Pentax K1000, and a lens 50mm. He limits himself technically deliberately and from the beginning: these constraints force him to think to find singular compositions.
For this exhibition, he tried to give an overview of the diversity of the city by choosing 2 photos per district. The pampered quarters and the seductive windows have an obvious photogeny. The neighborhoods described as abandoned have a brilliance, a mystery and a beauty that are unveiled with equal power and even sometimes superior. These doors speak to us. Their aesthetic tells a story. Animated by an infinite curiosity for Paris, Joachim Lombard gives us to see a city teeming with life and full of hidden secrets.
METRO SAINT SULPICE by Evvy Eisen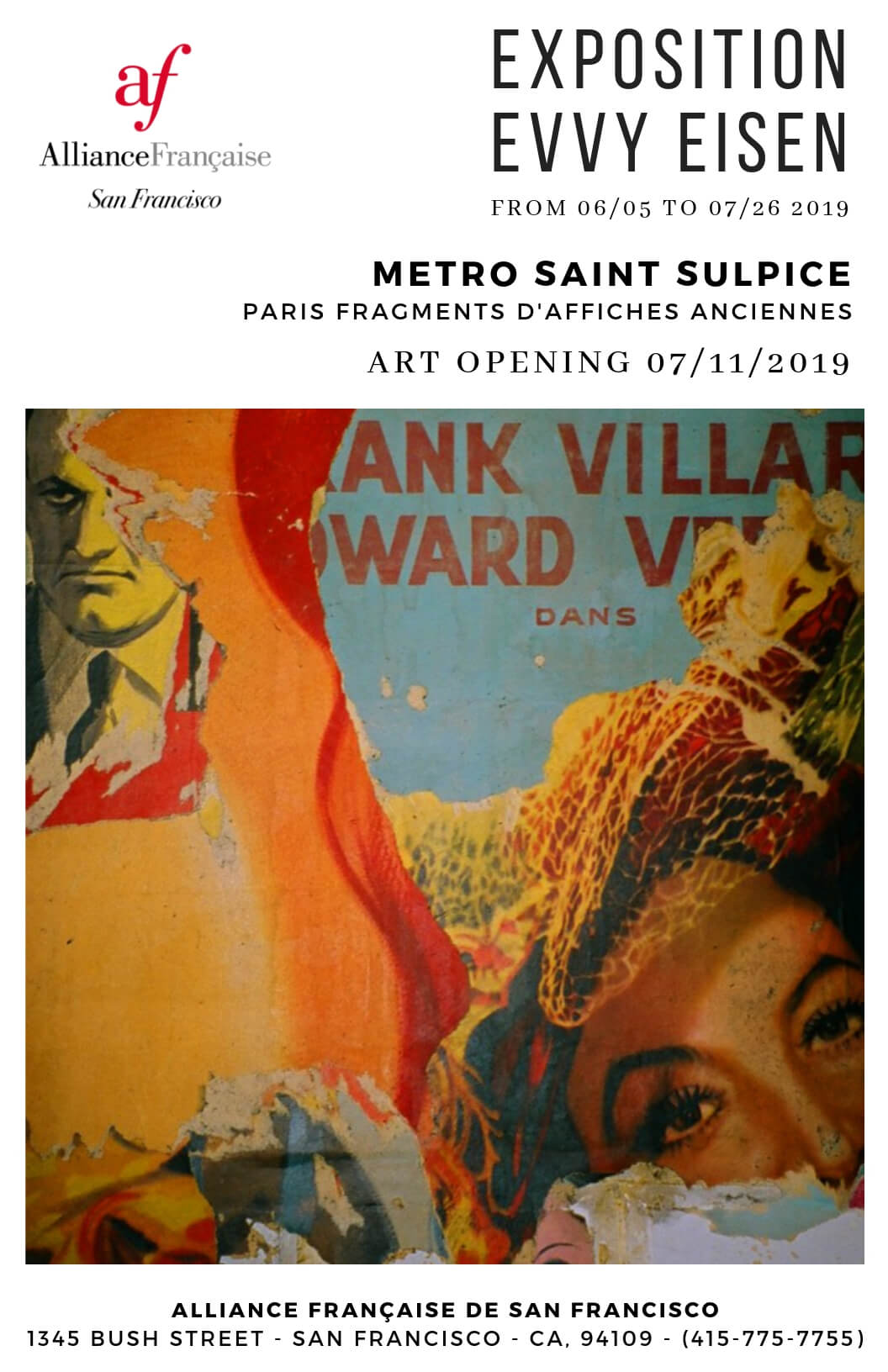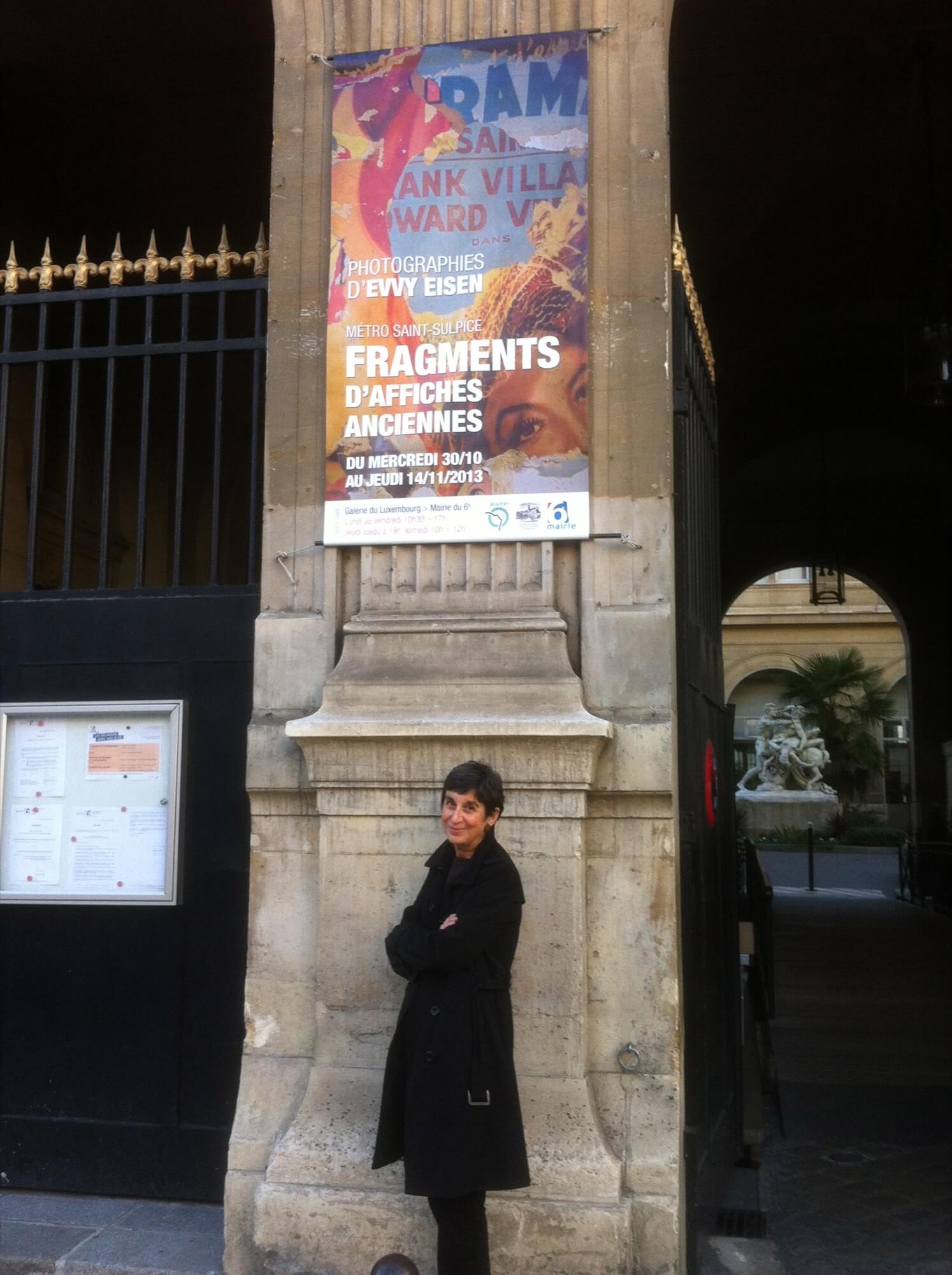 Photographer Evvy Eisen was born and educated in New York City and has lived in the Bay Area since 1966. She specializes in environmental portraits, often of people involved in socially relevant issues. Two such long-term projects are "Multiply by Six Million", photographs of Holocaust Survivors living in California and France and "Oyster Farm", images of the workers and environment taken during the final year of operation of the historic Drakes Bay Oyster Company in West Marin.
Evvy photographs in a classic portrait tradition utilizing black and white film, a medium format camera, and natural light. She does all black and white darkroom work, creating individual, fine art silver gelatin prints. Her work is in museum and private collections and has been exhibited in the United States and Europe.
The exhibit "Paris Métro Saint-Sulpice, Fragments d'Affiches Anciennes" at the Alliance Française SF is a departure from the way Evvy usually works. She took these color photographs during a visit to Paris when she observed workmen stripping advertising posters from the walls of the Saint-Sulpice métro station prior to a major renovation.

As fragments of each layer were revealed, designs, abstractions and surreal collage-like compositions emerged. Photographing just steps ahead of the workers, Evvy recorded these images as they were uncovered and evolved.
The images she recorded existed only at the moment she photographed them. Within hours, the platform was stripped bare and what was briefly visible was gone forever. Posters are routinely removed from metro walls. However, research, determined that the fragments of the posters revealed in Evvy's photos date back to the mid-20th century. Recognizing the significance of these unique images, the RATP* purchased a set of prints for their permanent collection.
The photographs were exhibited in Paris at the City Hall of the 6thArrondisement and at the headquarters of the RATP in 2013-4. The San Francisco exhibit is presented with the cooperation of the RATP.
* Régie Autonome des Transports Parisiens agency responsible for all public transport in Paris, including the Métro, tram and bus services.
Selected images from these projects may be viewed at evvyeisen.com
---
Paysages de San Francisco | Landscapes of San Francisco by Charlotte Doutriaux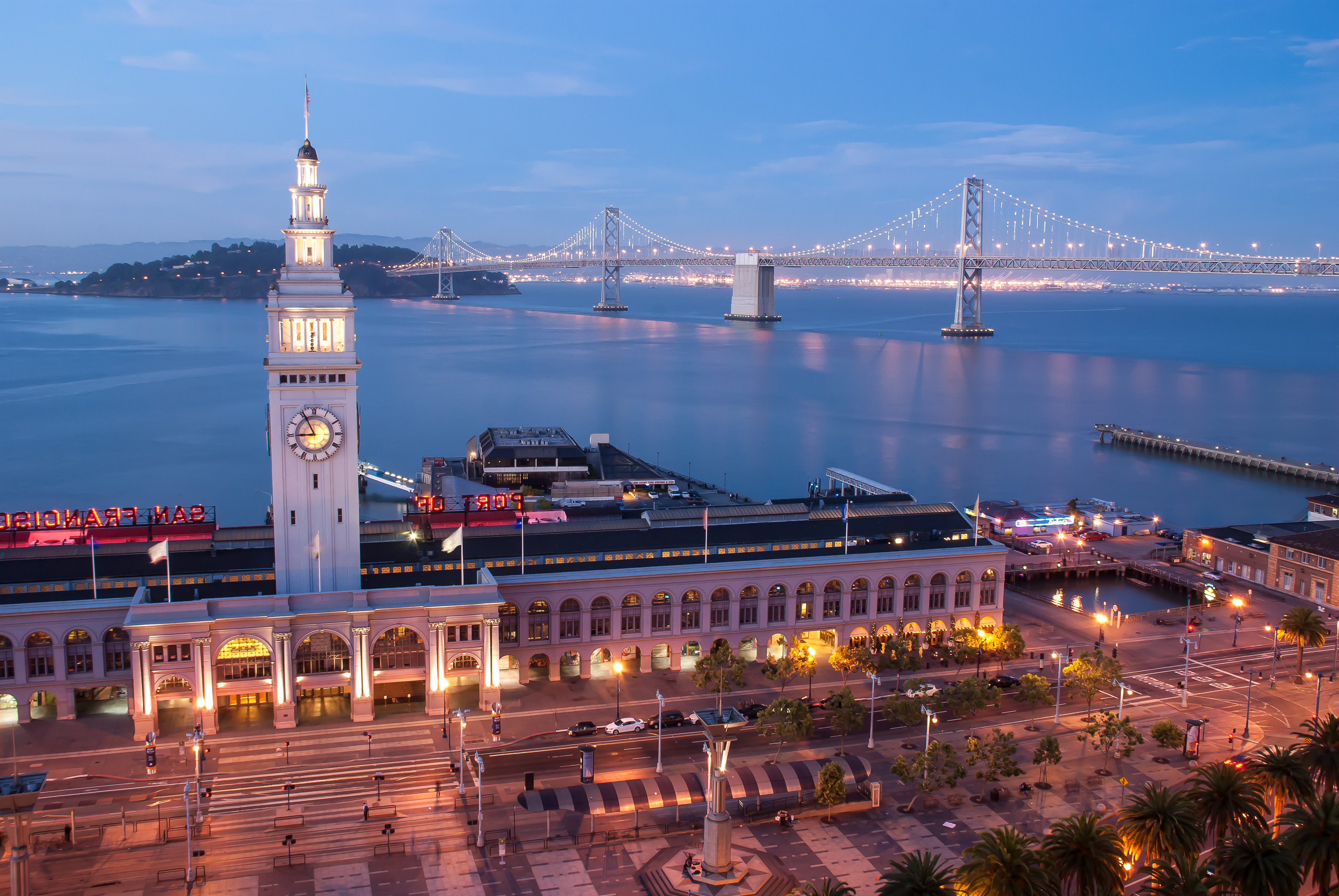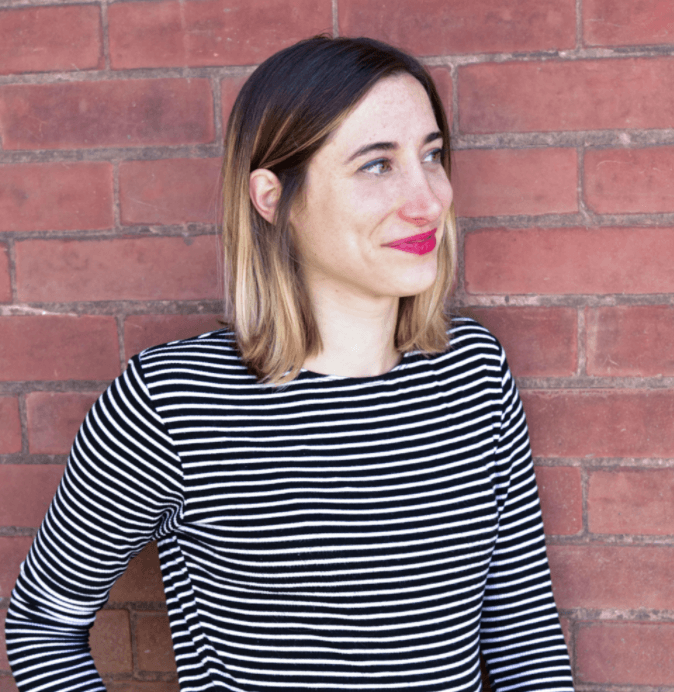 English Bio
Born in Europe to French parents and raised in four countries, I currently live in San Francisco. My multicultural background led me to embrace my surroundings and photography allowed me to explore the world in ways I never would have otherwise.
In addition to landscapes, I love taking candid portraits. My biggest challenge in photography: traveling to China for a month with a 50mm prime lens which is usually meant for close-up photography. The result was astonishing, giving grandeur and density to monuments, objects and, most importantly, people. My photographs reflect who I am.
After a month-long workshop at the Project Basho Art Center in Philadelphia, I developed a passion for night photography.
So along with my tripod, off I go and travel into the night...


Bio française :
Née en Europe de parents français et ayant grandi à l'étranger, je vis désormais à San Francisco. Mon milieu multiculturel m'a amenée à porter une attention particulière à ce qui m'entoure et la photographie m'a permis d'explorer le monde d'une manière qui n'aurait pas été possible autrement. Mes photographies révèlent une partie de ma personnalité.
Hormis les paysages, j'aime prendre le temps de photographier un regard, une émotion, un visage. Mon plus grand défi en tant que photographe a été de voyager en Chine pendant un mois avec une petite focale fixe de 50mm dans mes mains (faute de place dans ma valise), un objectif normalement conçu pour la photographie rapprochée et les portraits. Le rendu fut surprenant et donna une impression de grandeur aux monuments, détails et portraits.
Après avoir suivi une formation au centre d'art Basho à Philadelphie, j'ai développé une passion pour la photographie de nuit.
Ainsi, avec mon trépied sous le bras, je m'éclipse dans la nuit…
---
Bande Dessinée festival
Featuring Danièle Archambault

En cases et en bulles.

Danièle Archambault, Ph.D., is an artist, a researcher and author using visual storytelling (graphic novels, graphic memoirs, comic books) as a way to document a society's cultural and linguistic landscape.
Originally from Montréal (Québec), where she was a tenured professor in the Department of Linguistics at the Université de Montréal, she moved to Palo Alto twenty years ago.

In 2009, her interest in comic books, graphic novels, and the European genre, bandes dessinées, led her to attend a course at Stanford University on how to create a graphic novel. She discovered an engaging and powerful way to reach people and document culture, language, and life. Since then, she has written several bilingual (French and English) paper comic books and graphic novels, a digital interactive comic book, a webcomic-blog, and edited or co-edited several collaborative comic books.
She has had solo exhibitions and group exhibits (juried) in Canada and in the United States. She is a regular guest speaker on documenting culture and dialects through comics at various educational and cultural institutions.
Ms. Archambault teaches graphic novel and illustration classes at the Palo Alto Art Center and other educational venues in the Bay Area, focusing on the art of visual storytelling. She is the co-founder with Ms. Anne Dumontier of the educational program. French Language and Culture through comics in Northern California. Since 2014, she has been an artist-in-residence in the Cubberley Studio Artist Program, a program of the City of Palo Alto.

Since 2010, Ms. Archambault has published several full-color comic books and graphic novels, in both paper and digital formats. Her series Stairway Stories-Histoires d'escaliers is a collection of three bilingual (French and English) flip-over books: In the Montreal of my childhood (2010), On the way to school (2010), The Age of Reason (2011). The stories, as well as the drawings, document with emotion and humor the culture and the French dialect spoken in Quebec. In May 2017, she published Histoires d'escaliers. Une année de célébrations, a 125-page graphic novel documenting the evolution of the main celebrations in Québec society since the1950s. In Québec-California (2012), available as a paper book and as a multi-touch e-Book, she narrates her adventures and misadventures with California wildlife. La sobriété volontaire. Une année sans alcool (2015, 2018) is a 200-page full-color graphic novel, in which, through the humorous personal account of a woman's adventures in the world of sobriety, the author takes a serious look at society's role in the pervasive problem of alcoholism in women. The novel is also available as a webcomic and is currently being adapted to English.
Ms. Archambault's artwork also includes series of drawings and paintings, created using traditional art form like watercolor, pastels and color pencils as well as digital art, using a graphic tablet and a computer. Her latest work includes The Art of Procrastination, Life on their own, Reflections on Art and the adaptations of some of Lafontaine's fables.