Recipe : Far Breton
The word "far" comes from the Breton word "farz forn" which means "far au four" and from the Latin word "épeautre" which means "spelt" which is a cereal-based preparation. As you can see, the recipe of the day is of Breton origin, is mainly made of wheat flour and is baked in the oven!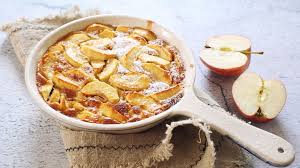 Ingredients
(for 4 people)
2 apples
100G of flour (3.52 Oz)
120G of sugar (4.23 Oz)
2 packets of vanilla sugar
25cl of milk (2 1/2 cups)
Butter (for the mold)
4 eggs
25cl of liquid cream (2 1/2 cups)

If you need help converting the units: https://mykitchencalculator.com/kitchencalculator.html
How to do Far Breton ?

1-Preheat the oven to 180°C (356°F) (th.6).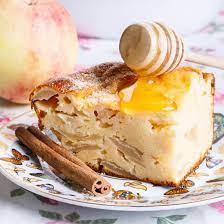 2-Cut the apples into small pieces.
3-Butter a dessert dish and powder it with sugar.
4-In a bowl, mix the flour, vanilla sugar and sugar, then add the eggs one by one, whisking constantly.
5-Pour in the milk and cream, whisking constantly until you have a smooth batter.
6-Add the apples and mix.
7-Pour the batter into the dish and bake for 45 minutes.
8-Remove from the oven and sprinkle with sugar.
9-Serve warm, or cold with vanilla ice cream or caramel.

Bon appétit!
Tips: For extra flavor, you can add orange blossom or lemon zest just before adding the milk and cream, or replace the apples with other dried fruits like dates, raisins or prunes!
Far, flan, clafoutis... What's the difference ?
The flan is an egg and milk based mixture that contains no flour (sometimes cornstarch) to which a shortcrust pastry is added (not flaky). For the clafoutis, originating from the Limousin region, it is a bit the same thing except that it contains flour.
The clafoutis is called "Milliard" or "Millard" in the Limousin and in Auvergne. Some variations of clafoutis are with cream. Traditionally, clafoutis are made with cherries but you can find them in all tastes and even with chocolate. Made with fruits other than cherry, such as apple, apricot or plum, it is called flaugnade.
Far Breton was originally a wheat porridge to which dried fruit was added before cooking. In fact, the word "far" in Latin means "froment, blé, gruau" (wheat, gruel). Today it has become a Breton dessert, with a consistency denser than a flan, made with eggs, butter, sugar, flour and milk. It can be plain or filled with prunes or raisins. In Breton, it is called farz fourn which means far in the oven!

Source : www.marmiton.org