Recipe: Flan coco
Discover today the recipe for Flan Coco, a recipe full of exoticism straight from the West Indies, and particularly famous in Guadeloupe. A creamy vanilla custard and a caramel upside down on top... this gourmet dessert will delight your taste buds for sure!
Learn more about Guadeloupe and the Guadeloupean gastronomy on our blog.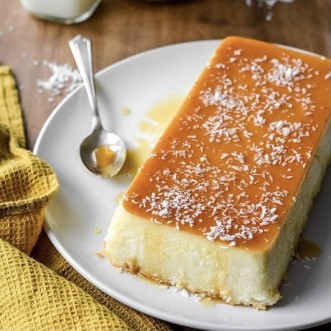 Today's recipe is curtesy of "Pardon your French"
Ingredients
For 8 people
For the caramel:

For the flan:
1-1/2 cup + 1 tbsp (400ml/14oz) sweetened condensed milk

1-1/4 cup (300ml /10.15 fl oz) coconut milk (can)

3 large eggs

1 tsp vanilla extract (or seeds of ½ vanilla bean)

1 cup (95g) shredded coconut (plus extra for garnish)

If you need help converting the units: Kitchen Calculator
How to make a FLAN COCO
Pre-heat your oven to 350°F (180°C). Prepare a cake mold.

Make the caramel: Place the sugar in a small saucepan over medium heat. Let the sugar melt, bubble, and turn a golden color. When the caramel turns amber, remove it from the heat and pour the caramel evenly over the bottom of the mold. Set aside to cool and harden.

In a large mixing bowl, whisk together the condensed milk, coconut milk, eggs, vanilla extract, and shredded coconut. Pour the mixture into the cake mold (over top of the caramel).

Place the cake mold into a larger dish, and fill the larger baking dish with water at least 1/4 up the sides of the loaf pan. Cook for 50-55 minutes, until the top crust is lightly golden and firm to the touch. Let the flan cool to room temperature, then transfer into the fridge and chill for at least 3 hours.

When chilled, place the pan in about 2 inches of fairly warm water, so the caramel at the bottom of the pan softens again. Run a knife around the edges of the pan. Invert a plate over the pan, hold tightly, and quickly turn over. Sprinkle with shredded coconut before serving.
Et voilà! Bon appétit!

Did you know that? Fruits are the basis of desserts in Guadeloupe. These abound on the island and there is a variety of exotic fruits, all more appetizing, sweet, and sugary than the others (mango, guava, papaya, banana, pineapple...). But it is still the coconut-based desserts that are the most widespread on the island: Sorbet Coco, Tourment d'Amour, Blanc-manger Coco, or even Flan Coco...
Photo: Pardonyourfrench.com