Poulet à la mangue
We continue our world of culinary Francophonie. On the occasion of the week centered on New Caledonia, we propose you the recipe Chicken with mango sauce from New Caledonia, with carrot tomatoes, spinach, sorrel, lamb's lettuce, mango pulp.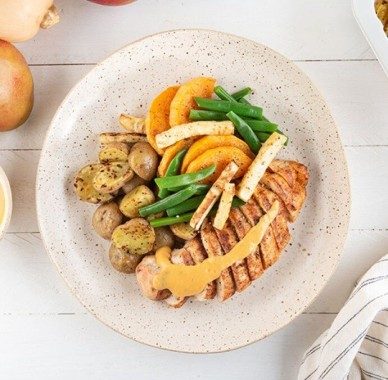 Ingredients:
1 small chicken
2 large onions, finely chopped
2 large tomatoes, sliced
2 carrots, thinly sliced
3/4 cup of chopped dark green leaves (spinach, sorrel, lamb's lettuce...)
2 tablespoons of oil
1/2 cup of mango pulp
1/4 l of water
Salt and pepper
How to make it :
Step 1
-Cut the chicken into individual portions and wash well.
Step 2
-Fry the chopped onions in oil for 5 to 10 minutes. Add the chicken pieces and cook for another 10 minutes.
Step 3
-Add the tomatoes, carrots, mango pulp and water and cook for 45 minutes, stirring occasionally.
Step 4
-Add the chopped green leaves and leave on the fire 5 to 10 mn more. Add salt and pepper to taste.
and here is our recipe for
mango chicken

, now it's your turn to recreate this New Caledonian dish!