LIVE PERFORMANCE: PLAY: POUR UN OUI OU POUR UN NON - NOVEMBER 18
Date: 18 Nov 2022, 7:00pm - 8:00pm (GMT-08:00) Pacific Time (US & Canada)

✨ONSITE LIVE PERFORMANCE: POUR UN OUI OU POUR UN NON by French playwright Nathalie Sarraute ✨
Note: The play will be performed entirely in French without translation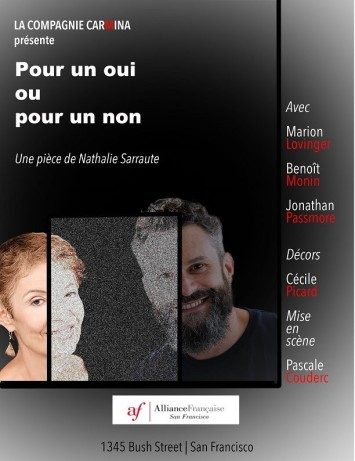 With Actors:
Marion Lovinger
Benoit Monin
Jonathan Passmore
Decors:
Cecile Picard

Staging:
Pascale Couderc
6 performances at the Alliance Française:
November 11, 12, 18 and 19 - December 2 and 3
In French without translation
"In a concentrated action, where all that matters is what is left unsaid, two characters face off, taking turns being the dominant and the dominated, two friends quarrel - perhaps - "for a yes or for a no."
The tension that exists under the smallest words, the physiological and psychic movements under the surface communicate to the public a feeling of unease and at the same time fascinate them.
Because this dispute is ours, these words, we have pronounced them, these silences, we have heard them.
A whole repressed past is emerging, an unconscious depth, and aggressive impulses. Through words we tear ourselves apart, and we tear others apart. But silence is worse."
"It is a merciless struggle. A fight to the death."
A word on the author: Sarraute's entire oeuvre is dedicated to the exploration of minute, ephemeral movements of feeling at the very limits of consciousness.
These she called "tropisms," a term that provided the title of her first book of short sketches or prose poems.
In the works that followed, Sarraute showed the tropisms at work in the wider scope of the novel form, creating slow-motion close-ups that dramatize and enormously enlarge —often with comic effect— the virtual dramas latent in ephemeral flickers of feeling.
📆 When? Friday, November 18, 7:00 pm - 8:00 pm (the play lasts approximately 60 minutes, without intermission)
📍 Where? Alliance Française de San Francisco, 1345 Bush Street, San Francisco, CA 94109
Covid-19 precautions: All on-site events at AFSF require either proof of full vaccination or a negative Covid-19 PCR test taken at a doctor's office or pharmacy (no home tests). The full and up-to-date vaccination definition is 2 doses + booster for Moderna and Pfizer or 1 dose + booster for Johnson and Johnson. Thank you for your cooperation.
💵How much? 15$ for members - 25$ for non-members

E-mail louise@afsf.com for any questions.
Sorry, you've missed the RSVP deadline for this event.