Gift certificate - 1-year Individual membership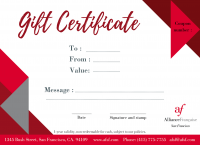 Product Duration: 12 months

More information on the Membership page.
Valid for 1 year from date of purchase.
Your gift certificate will be sent to your email address under 48h after purchase (except if purchase is made online between December 22nd, 2018 and January 1st, 2019). If you wish the gift certificate to be sent by mail, please contact afsf@afsf.com or call us (415) 775-7755.