Recipe: The Congolese Fumbwa

Discover the recipe of Fumbwa, a lip-smacking, tasty dish from the Democratic Republic of Congo that is highly satisfying and nutritious! An ideal recipe for a nice culinary trip!
Ingredients: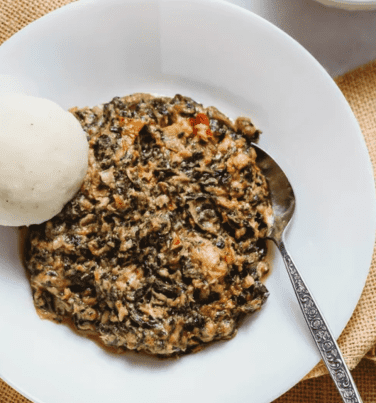 (for 4 people)
1/2 cup water
11 ounces (300 grams) baby spinach, finely chopped
3 spring onions
2 cloves garlic
2 ripe tomatoes
1 chicken stock cube
1 cup smoked catfish, soaked and rinsed, then chopped
3 tablespoons red palm oil
1 cup ground peanuts, or 4 heaping tablespoons of peanut butter


If you need help converting the units: Kitchen Calculator


How to make Fumbwa:

1- Bring the water to a simmer in a large pot and add the spinach.
2-Once they have reduced in volume by about half, add the spring onions, garlic, and tomatoes and continue to simmer. Crumble the chicken stock cube into the pot and mix well.
3-Make sure all bones and skin have been removed from the smoked fish, then add them to the pot. Allow to simmer for 10 minutes.
4- Add 3 to 4 tablespoons of red palm oil into the pot.
5- Add the ground peanuts or peanut butter and allow to melt over gentle heat. Stir it into the dish and allow to simmer for 10 minutes until ready to serve.
Bon appétit !


Did you know it ? Fumbwa or <<koko>> is a dish originally consumed by the "BaKongo" people located in the west of Congo. Today it has spread throughout Africa and many ethnic groups love it.


Recipe and picture: https://www.thespruceeats.com/