Recipe : the Berawecka
This week we make you try a speciality called Berawecka, a small bread made of dried fruits and tasted with Brandy!
Berawecka is most often made with raisins, figs and apricots, but you can of course vary it with dried pears or candied apples, depending on your taste!
Ingredients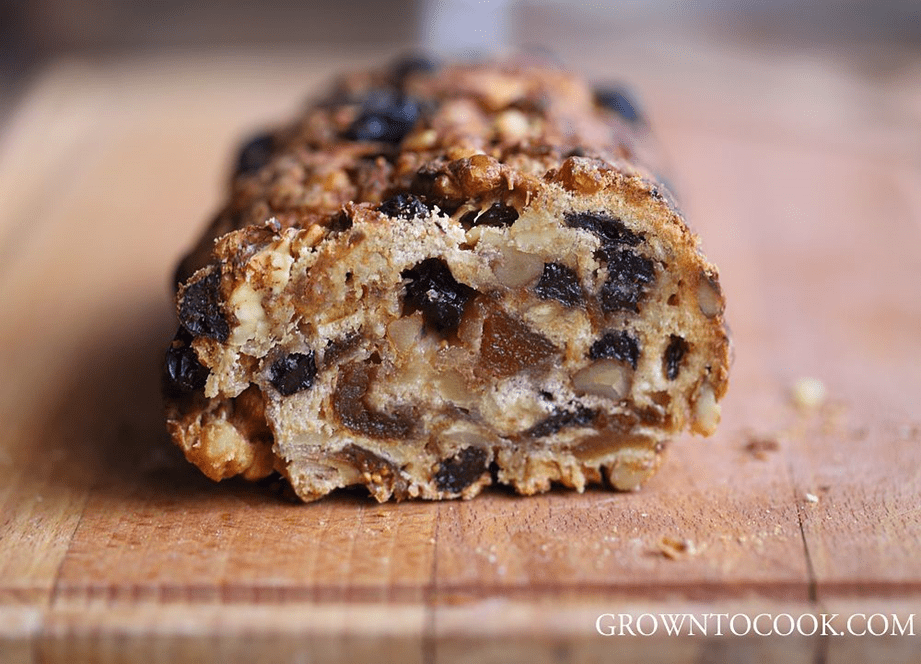 (For 5 people)
Makes 2 loaves
135g (1 cup) dried currants
150 g (1 cup) dark raisins
75 g (½ cup) diced dried pear
75 g (½ cup) diced dried figs
75 g (½ cup) diced dried apricots
50 g (¼ cup) sugar
125 ml (½ cup) kirsch (cherry brandy)
1 tsp dry yeast
80 ml (¼ cup) warm water
275 g (2 to 2 ¼ cup) flour
125 ml (½ cup) milk
30 g (2 tbsp) butter, melted
½ tsp salt
pinch of ground cloves
pinch of ground cinnamon
pinch of ground aniseed
50 g (½ cup) slivered almonds
110 g (1 cup, 4 oz) walnuts, roughly chopped
40 g (¼ cup) candied lemon peel, diced
40 g (¼ cup) candied orange peel, diced
If you need help converting the units: https://mykitchencalculator.com/kitchencalculator.html


How to do the Berawecka ?
1-Combine all the dried fruits with the sugar and the kirsch in a bowl. Cover and let macerate for a day at room temperature.
2-Next day, make your dough. In a large bowl, dissolve the dried yeast in warm water and let stand until bubbles start to form, about 10 minutes. Add half the flour, warm milk, melted butter, salt and spices. Stir everything until well combined. Add as much flour as needed to make a soft dough and knead on a lightly floured surface for a couple of minutes.
3-Place the dough in a buttered bowl, cover and let rise at room temperature until almost doubled in bulk, about 1 hour (the time depends on the temperature of the room).
4-Transfer the dough into another large bowl and add the dried fruit, nuts and candied peels. Knead until the fruit and nuts are evenly distributed. Divide the dough in half and shape each half into a fat log, about 30 cm (12 inches) long. Place logs on a baking sheet lined with parchment.
5-Let rise for about 30 minutes more. Meanwhile, preheat the oven to 375 F.


6-Bake the breads until firm and pretty dark, about 45 – 55 minutes, rotating the sheet halfway through. Transfer to a wire rack and let cool completely. Beraweka keeps at least 3 days at room temperature, wrapped in plastic.

C'est prêt! Bon appétit!

A few tips:
Light and fragrant, this bread roll can be served with cheese or jam of your choice. It is also possible to use other kinds of brandy: quince brandy or plum brandy are all great.


Did you know it?
The Berawecka is a sweet between the cake and the bread filled with fruits speciality with dried fruits of Alsatian origin, traditionally prepared at Christmas. Tasty and light, this bread roll is now consumed throughout the year during the aperitif.
Also, "beera" means pear in Alsatian and "wecka" means cake or small bread.
Source : https://www.growntocook.com/?p=3284