Les Élections Présidentielles 2022 en Culturethèque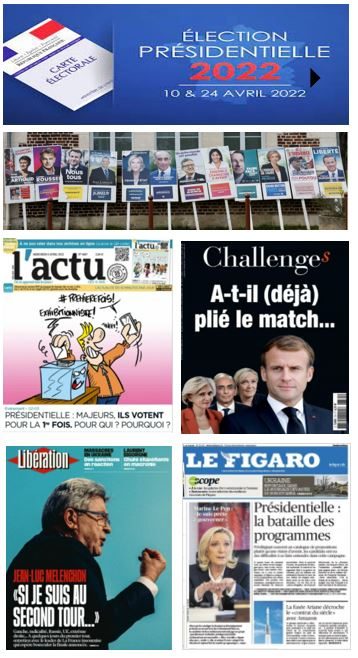 Every five years, French voters go to the polls to elect their next president by direct popular vote. This Sunday, April 10th will be the first round of the 2022 election two-round system with the second round scheduled 2 weeks later on April 24th for a run-off of the top candidates. This informative article from France24 explains how the two-round system works, how campaigns are developed and financed, candidate and voter eligibility and more. Your AFSF Culturethèque e-library can help you stay current on all of the latest news as the election unfolds. Visit the Culturethèque home page "LE KIOSQUE DU JOUR" section for popular French newspaper and magazine publication current issues targeted at all age groups and political audiences.
The first round in the election process this year presents French voters with a crowded slate of 12 candidates that pit the centrist incumbent, Emmanuel Macron, against a range of challengers, representing various platform programs and political parties. For the first time in history, four women are among the candidates in the first election to be held since the recent #MeToo movement. While technically, a French president could win office in a single round of voting by scoring more than 50 percent of the vote on the first Sunday – no contender for France's top job has ever managed that feat. In practice, the run-off vote decides the winner between the two finalists who win the most votes in the first round. The stakes are high this year given recent world events but one thing is for sure – all eyes will be on France for the next two weeks as this important election determines who will lead France for the next five years.
Visit the AFSF Library page for instructions on how to sign up for the Culturethèque e-library. Bonne lecture des actualités sur Les Élections Présidentielles en France !