Celebrating Belgian Francophone Authors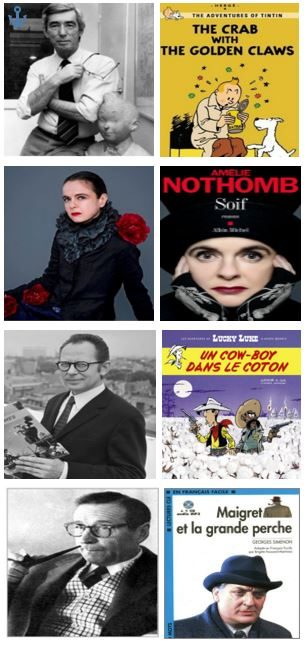 Did you know that the worlds two most translated French authors are Belgian? Francophone authors Hergé and Georges Simenon honor their Belgian heritage with the international success of their French-language literature translated around the world. But the list doesn't stop there of numerous Belgian Francophone authors who have made their mark on French literature new and old with major contributions.
Hergé, a pseudonym of George Remi (1927 – 1983) was a Belgian comic strip author, famous worldwide for The Adventures of Tintin. Hergé was one of the first French authors to use the style of the American comics with speech bubbles, and is consequently considered to be the founding father of the European comic strip.
Georges Simenon (1903 - 1989) was a French-speaking Belgian known primarily for his Maigret detective novels, though he actually wrote many more works. Indeed, he was responsible for 193 novels, 158 novellas, several autobiographical works and reports and articles published in his name along with several other novels and novellas published under pseudonyms. He is the world's most-read Belgian author; cumulative prints of his books account for 550 million copies.
Contemporary prolific Belgian writer Amélie Nothomb, began with the publication of her first novel Hygiene and the Assassin in 1992, at the age of twenty-six, and has since published a book a year. Just this year she was awarded the Prix Renaudot, one of the main French literary prizes awarded every year, for her latest novel Premier Sang. Her novels are among the top literary sales and have been translated into several languages. She is a Commander of the Order of the Crown and has had the title of Baroness bestowed upon her by King Philippe of Belgium and in 2015 she was elected to the Royal Academy of French Language and Literature in Belgium.
And of course, no list of renowned French bande dessinée (BD) series would be complete without the popular Luke Luke BD series. Maurice De Bevere better known as Morris, (1923 – 2001) was a Belgian cartoonist, writer, illustrator and the creator of Lucky Luke bestselling comics about a gunslinger in the American Wild West. He was inspired by the adventures of the historic Dalton Gang and other outlaws. It was a bestselling series for more than 50 years that was translated into 23 languages and published internationally. Morris's pen name is an Anglicized version of his first name.
You can explore the works of these and many other celebrated famous Belgian francophone authors on our AFSF Culturethèque e-library. Bonne lecture de la littérature belgian française.