En Vadrouille... #5
- L'Occitanie, un patrimoine exceptionnel -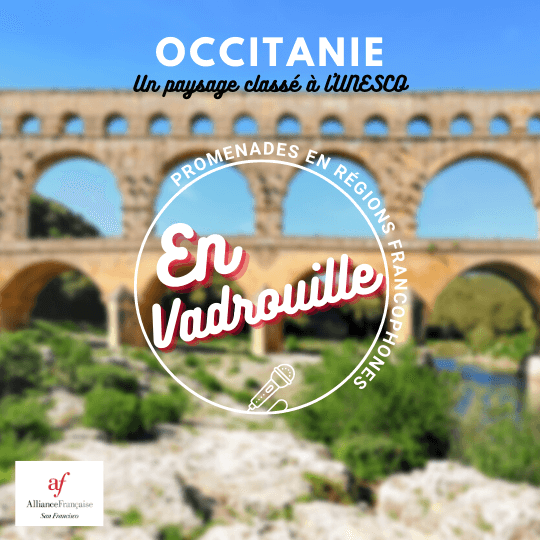 Occitania is the third most visited region in France! It has 8 UNESCO sites, including: Cirque de Gavarnie, les Cévennes, Gorges du Tarn, Albi, Canal du Midi, Pont du Gard...Do you know about them?
Listen to Patrick Fontanel, attaché de presse at Occitanie tourisme, Hervé Hubidos, directeur accueil, culture et médiation at Pont du Gard, and Philippe Miro, representantative of the Office de Tourisme de Carcassonne.
They will present the natural and cultural heritage of this beautiful area, including historical sites classified as World Heritage by UNESCO.
Stroll in the heart of these breathtaking landscapes from your home!
Discover more about the treasures of Occitania in this the fourth episode of En Vadrouille. We have prepared two interviews at two different levels of difficulty (A1/A2 and B1+). Listen to our podcasts on Spotify, Google Podcast, Pocket Podcast or via Anchor.
Would you like to learn more about this beautiful region? Attend our cultural workshop "France des régions - Midi-Pyrénées" on June 5 and/or read this article.