Summer Reading on Culturethèque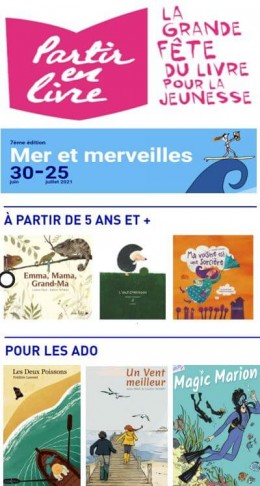 The 7th annual Partir en Livre series of events takes place throughout France, from June 30 to July 25, 2021, around the theme "Mer et merveilles" (Sea and wonders). Conveniently timed with the completion of the school year, this annual celebration keeps reading top of mind as children head out on summer vacations with their families. With coordinated events held throughout France on beaches, in campsites, at the foot of monuments, in parks and gardens, and online, Partir en Livre aims to bring books closer to children, adolescents and their families.
Your AFSF Culturethèque e-library brings the celebration to you as well with curated children's literature by age groups along with many of the online events and podcasts being offered in France. Your children can explore fun activities, to do alone or with others, around children's books. They can make books with their own hands, learn to illustrate stories, color, and more. Or they can simply explore the vast collection of Culturethèque titles around the theme of the seas and oceans used for this years Partir en Livre celebration.
Closer to home, your children might enjoy the San Francisco Summer 2021 StoryWalks offered by the Golden Gate National Parks Conservancy. Pages of a children's book are put on signs and strategically placed along the trails in the Presidio, Crissy Field and Mountain Lake Park. Walk along the trail and read the story, step-by-step and page-by-page while exploring nature! Also available is the San Francsico Public Library's Summer Stride annual summer learning, reading and exploration program for all ages and abilities.
Visit the AFSF Library page for instructions on how to sign up for the Culturethèque e-library. Bonne lecture estivale (summer reading) avec Partir en Livre!