Conversation classes: what are they?
Looking for an opportunity to practice your speaking skills?
Take a look at the list of conversation courses included in the Pack "Class + Conversation" below. Note that the "French Pronunciation" course is also included in this pack.
Conversation classes are designed to encourage you to talk on different subjects while practicing your spoken skills. Class after class, you will become more confident and comfortable in any conversation in French.
Each class starts with a "Quoi de neuf?" (What's new? What's up?), it is a great time to connect with other students and talk in French.
Then, students discuss a topic, based on documents they have read, watched, or listened to before or during the class.
Every lesson is an opportunity:
to improve your grammar and vocabulary,

to learn new idioms,

to get personal feedback from your teacher,

to learn about French culture or news, and

to understand some nuances in French conversation.

Don't wait to join a Conversation class, connect with interesting and diverse people in your community, and apply what you learn in conversation!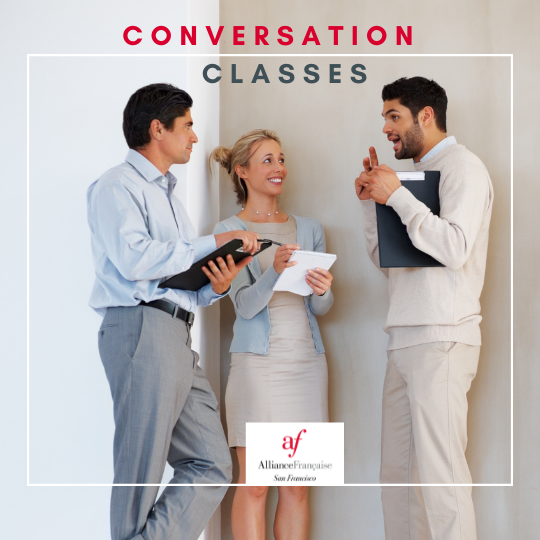 For all adults : "PACK CLASS + CONVERSATION" DISCOUNT
Enroll in one of the following Conversation course with a 20% discount.
Offer valid until October 18th, 2021.
Discount is applied automatically when registering for any regular course AND a conversation course.
OR
If you are already enrolled in a French course for adults for the next session (session 6), you can get 20% OFF when you register for a conversation course during the same session 6.

To see the full list of classes in session 6, visit the page "Classes for adults".