Visit Strasbourg
Is Strasbourg worth visiting ? the answer is obviously yes!
On the German border, Strasbourg offers its visitors a typical Alsatian architecture that cannot be seen anywhere else in France. This medieval city is full of history and emblematic places that we suggest you discover in this article.


La Petite France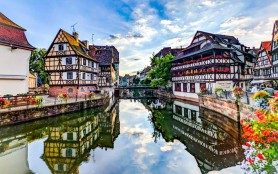 Located on the western side of the Grande Île in Strasbourg, France, the district of Petite-France contains the historical center of the city. Characterized by its canal system and half-timbered buildings, Petite-France is a charming area of Strasbourg that visitors shouldn't miss. You can visit the city by boat through the canals from the Corbeau Bridge.
Notre-Dame Cathedral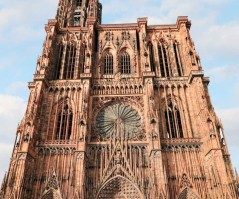 Strasbourg cathedral is an outstanding masterpiece of Gothic art. The construction of the Romanesque cathedral, of which only the crypt and the footprint remain, began in 1015. The spire of the current building, in a Gothic style, was completed in 1439.Climb the steps of the Gothic Cathedral Notre-Dame de Strasbourg to get a great view of the town.
European district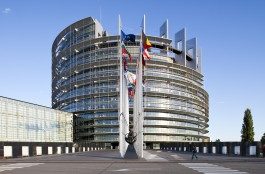 Sometimes French, sometimes German, Strasbourg changed its nationality four times in 75 years, between 1870 and 1945, due to wars and conflicts between France and Germany. However, despite the city's turbulent past, the languages and cultures of the two countries came together to make the multicultural city we know today. The European district of Strasbourg is an important place for Europe. It is home to the European Parliament, the European Court of Human Rights, the Council of Europe, and the Franco-German television channel ARTE. These buildings are worth a visit for their architecture and their history.
Its Christmas market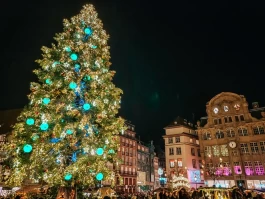 At christmas, and this since 1570, the city is transformed. Strasbourg is known as the Christmas capital during the month of December. Many tourists visit the city at this time. You can admire the numerous decorations in the city, but especially try the culinary specialties in the Christmas markets at Place Kléber and at the foot of the cathedral. Warm wine, tarte flambée, and other specialties to taste!


And here are our tourist recommendations, hoping to have inspired you the desire to travel to Strasbourg soon !