Visit Bordeaux
World capital of wine, home to the largest reflecting pool in the world, breathing with art and history: if you are wondering which French city to visit, Bordeaux should definitely find a place to your list. With its 260,00 inhabitants it makes 9th largest city in France. Bordeaux is also the capital of the Nouvelle-Aquitaine region in the Western part of France. Here are some tips for what to do in this beautiful city.
Explore La Cité Du Vin and one of the vineyards: Once you visit Bordeaux it is impossible to omit anything wine related. La Cité du Vin is a modern cultural centre celebrating all things wine. It's basically a high-tech interactive museum where you can explore the history of wine and how it's made around the world. If you're a fan of architecture too, this complex will not disappoint you. From here you can hop into one of the tours around many vineyards around Bordeaux: Saint-Émilion, The Médoc, Canon Fronsac, Sauternes and Graves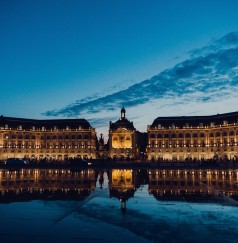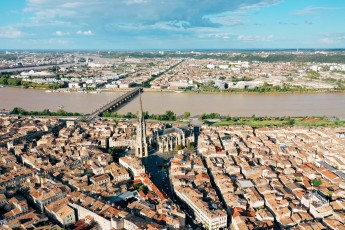 Check your reflection on Place de la Bourse: Place de la Bourse is Bordeaux's main square designed by Jacques Gabriel, favorite architect of Louis XV. After you embrace the beauty of this historical place, you will naturally want to cross the water mirror, world's largest reflecting pool. The pool reflects Place de la Bourse and it gets very dramatic when it's veiled by mist.


Stroll around Quais de Bordeaux: Bordeaux is a port city on the river of Garonne. Garonne's left bank is a splendid waterfront with an amazing promenade. It's also part of the 18th-century World Heritage ensemble, where the majestic facades of grand neoclassical buildings line a riverside promenade 260 feet wide. You can ride a bike here, take a walk, or just sit on one of the many benches and lawns below plane trees and enjoy the atmosphere.
Treat yourself at Rue Sainte-Catherine: Rue Sainte- Catherine is 0.7 mile long pedestrian shopping street which makes it the longest one in Europe. The street is pedestrian- only since 1984, it offers over 250 stores, many cafés and restaurants. Even if you are not a fan of shopping, this is certainly a point of interest you should at least check when you're in Bordeaux.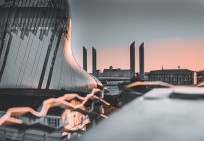 Visit one of Bordeaux museums: Bordeaux has over 20 museums. Except for La Cité du Vin, you can choose between the Natural History Museum, Science Museum, Contemporary Art Museum, Maritime Museum and many more. If you feel like exploring wine cellars from 1720s, make sure to visit Musée du Vin et du Négoce. There's so much to do in Bordeaux we couldn't fit in here, but we hope to inspire you in visiting this special city.


-Dominika, thanks for your contribution!