La Semaine du Goût 2021: Tasting and Eating Well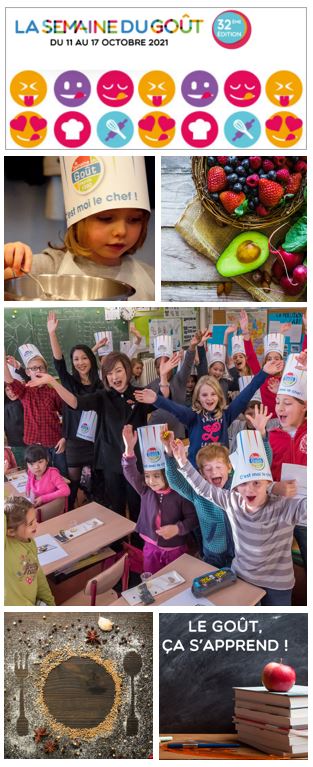 La Semaine du Goût is the hallmark French culinary event for the advancement and education of taste for as many people as possible. This year's La Semaine du Goût returns from October 11th to 17th throughout France promoting the culture of culinary heritage and eating well. Since 1990, the program has enabled taste professionals to organize events around food and the importance of choosing the products we eat. Restaurateurs, farmers, traders, health organizations and local communities participate in the program by registering their activities with tastings, workshops and meetings around taste! Jam competitions, visits to vegetable gardens and the discovery of various culinary professions will be among the many events available for all. This 32nd edition is based around the theme of the taste of travel and the discovery of new flavors.
Learning to taste and "eat well" begins at an early age. This is why, like every year, Leçons de Goût (Taste Lessons) will be held in schools. Chef Grégory Cohen is sponsoring the event for the second year in a row and will propose easy and gourmet recipes in a fun approach available to different classes in order to make students aware of the taste and origin of products. Discovery of French regional products, the seasonality of products, different varieties and tips for consuming them well and adopting a varied, balanced diet are just a few of the many topics in lessons that will be provided to these young school age consumers. Since the creation of Leçons de Goût in 1990, more than 6 million students have taken part.
All over France, activities will take place during this rich weeklong event of exchanges, sharing and experiences to provide the keys to understanding taste, the role of the senses and providing answers to the questions consumers ask themselves. To make sure attendees don't miss anything concerning the 2021 edition of La Semaine du Goût, an online map of all events will be provided on Mapstr for users to discover locations and addresses of their favorite professionals and lovers of taste supporting this important mission. Created more than thirty years ago, this event is organized by the Foundation for Innovation and the Transmission of Taste under the patronage of the Ministry of Agriculture and Food.
What is the taste? How does it evolve during our life? What role does our brain play in the perception of taste? Infographics and videos to understand everything about taste are all available online on the La Semaine du Goût web page with the support of INRAE, France's new National Research Institute for Agriculture, Food and Environment. Be sure to take this fun french quiz to see how much you already know. Bon apprentissage sur La Semaine du Goût et à vos fourchettes !