Françoise Sagan:
life of excess and literature
Françoise Sagan (real name Françoise Quoirez) is a French novelist born on June 21, 1935 in Cajarc (Lot) and died in Honfleur (Calvados) on September 24, 2004. In 1954, when she was only 18 years old, she met the success and the celebrity... Described as a "charming little monster" by François Mauriac, she also published biographies, plays, songs, and collaborated in the writing of screenplays and film dialogues. But she is also known for having regularly defrayed the social and judicial chronicle.
Between classics of French literature with Bonjour Tristesse, Aimez-vous Brahms, or A Certain Sourire, and the life of a drug addict, Françoise Sagan is an essential figure of French culture.
---
The childhood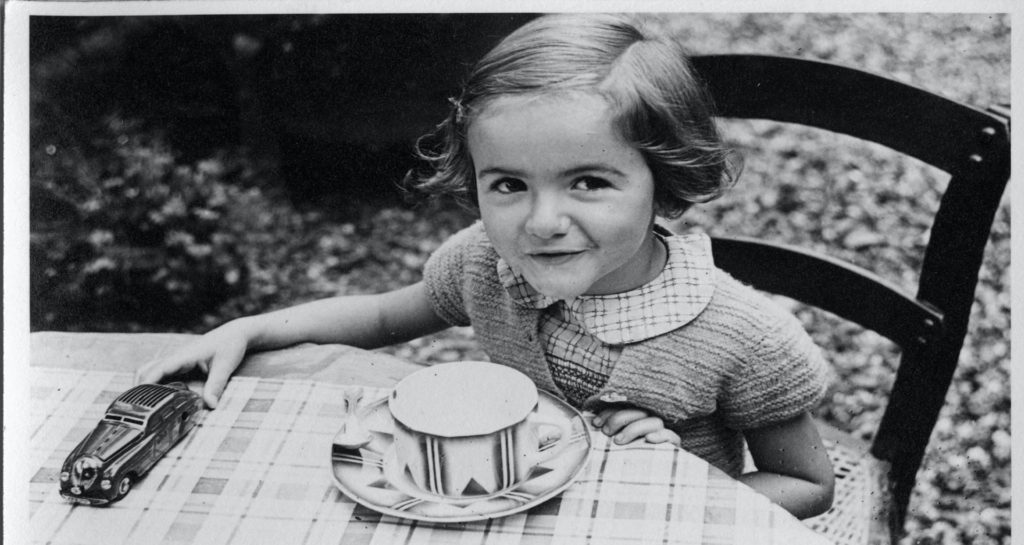 Françoise was born on June 21, 1935 in the Lot where her maternal family, the Laubards, landowners, lived. Her family is descended from industrialists and engineers from the north, she lives in a wealthy family, where money is not a problem.
She is the last of the siblings, after a sister and a brother. The birth of Françoise after this death gives her a special place in the family and we go to all the whims of the child.
Nicknamed Kiki, she spent her childhood between the Lot and Paris: during the Second World War, the family lived in Lyon. She was ten years old in 1945 and was marked all her life by a film about the liberation of the death camps.
At 13, Françoise has already read all the classics. A weary student, she obtained her baccalaureate by catching up. She entered the Sorbonne, but spent most of her time in nightclubs with her brother Jacques. There she rubs shoulders with the bourgeois Parisian youth, parties and drinks alcohol.
---
The genesis of Bonjour Tristesse
It was during her first year of university that she began writing this first novel. After failing an exam, she finished her book during the summer of 1953, in Paris. Her friend, Florence Malraux, daughter of André Malraux, submits the text to her mother who sends it to a publisher, it is a failure.
Françoise's literature teacher suggested that she rework the ending of her novel and recommended three publishers. Françoise then conceived a more tragic ending and had her manuscript neatly typed in three copies. On January 17, 1954, Julliard gave its agreement.
Her father did not want her name to appear on the cover, so she became Françoise Sagan, in reference to a character from Proust.
The novel was published on March 15, 1954, she was 18 years old. She received the Prix des Critiques on May 24, awarded by a prestigious jury. On June 1, François Mauriac wrote on the front page of Le Figaro: "this Critics' Prize awarded to a charming little eighteen-year-old monster whose literary merit is evident from the first page and is not debatable. However, the novel causes a scandal in the France of René Coty...


---
History of a success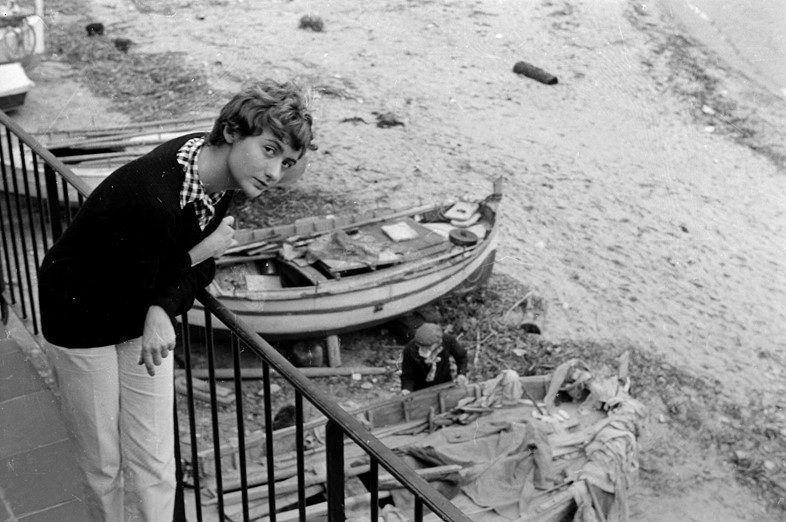 After her literary success, Françoise moved on to journalism. Hélène Gordon-Lazareff, director of the magazine Elle, ordered her a series of articles on Italy in 1954: she played the reporter from the north to the south of the peninsula and the texts were entitled "Hello Naples", "Hello Capri", "Hello Venice"... Each city was compared to a woman in these light texts and this "Hello" became her trademark.
His second novel, Un certain sourire is dedicated to Florence Malraux and was published in 1956. It meets again a great success with the readers. Françoise, caught up in success and money will be tempted by the gaming tables: she wins a lot of money. She also frequents the famous Parisian nightclubs of the time (Chez Castel, Chez Régine). Her passion for sports cars is still prevalent especially since she loves speed and often drives at night at high speed in the streets of Paris. The public confuses her with her characters and she quickly becomes, in spite of herself, the symbol of a well-to-do generation, carefree and casual, sexually liberated, a female James Dean.
She writes at night, gets up late: eternal teenager, she embodies a way of life and even a fashion for young people with her jeans, her striped sailors, her espadrilles without socks. Françoise Sagan has everything, in these years of prosperity of the immediate post-war period, of the phenomenon of society.
---
A writer's life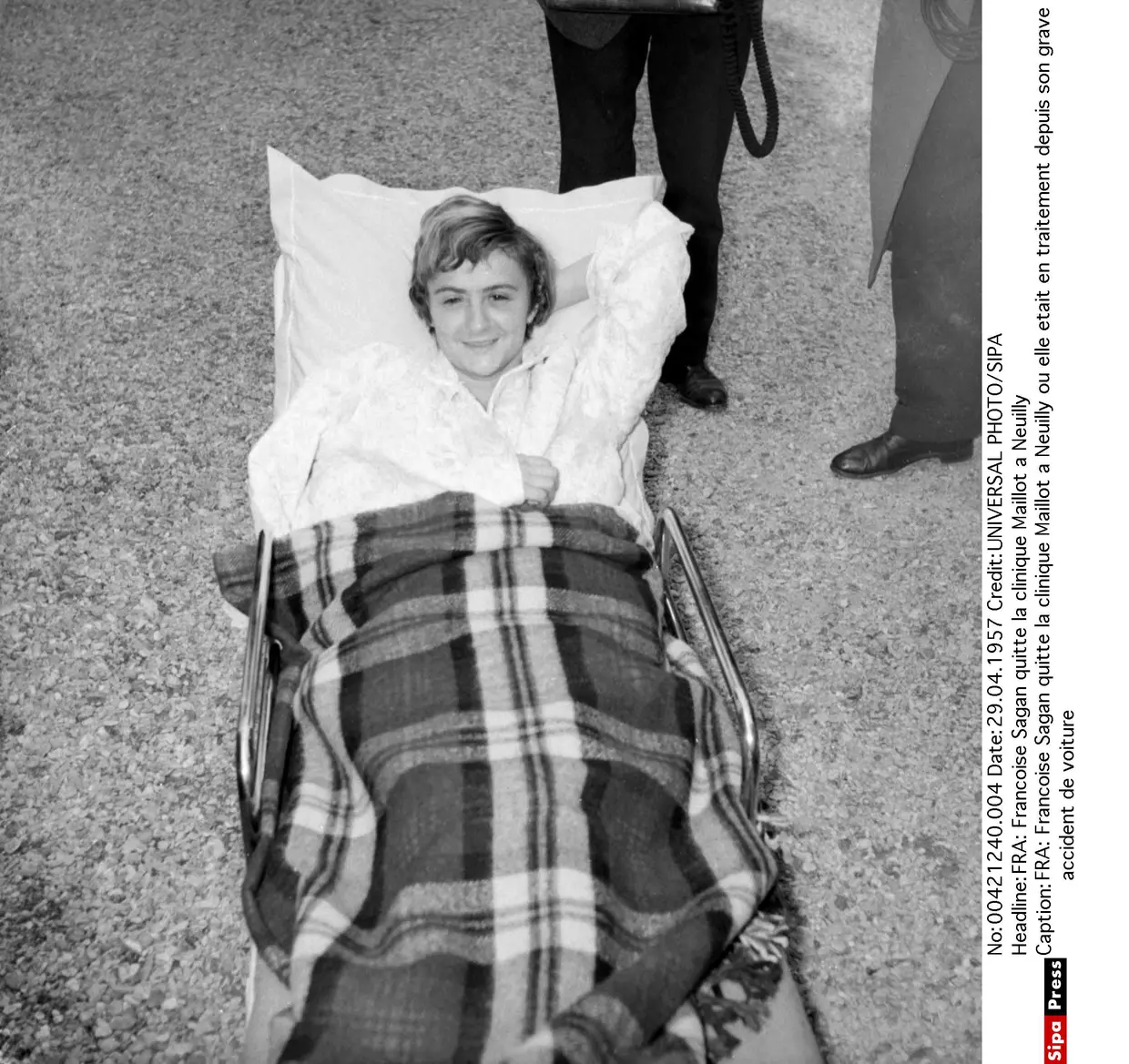 After a car accident, she becomes addicted to the drug she was given in the hospital. She started a detoxification treatment when she left the hospital and kept a diary called Toxic (1964). This cure will be a failure. She started to drink, which led to polyneuritis that would cause her to suffer for the rest of her life. Although financially independent and free, she suffered from addiction to medication, alcohol and drugs.
In 1958, she married the publisher Guy Schoeller, twenty years older than her, who protected her as a father would. The couple divorced in 1960 and she remarried two years later to the American model Robert Westhoff, with whom she had a son, David Westhoff in 1962. The couple quickly divorced but continued to live together before separating in 1972.
Although she was willing to stay away from literary battles, Françoise Sagan wrote about twenty novels: 30 million books sold in France, numerous translations (in 15 languages). Her favorite themes: the easy life, fast cars, bourgeois villas, the sun, a mixture of cynicism, sensuality, indifference and idleness.
If his preference is for the novel, the theater holds an important place in his work, but the success will not always be there. His plays will be represented with various fortunes: his first play, Un château en Suède, created by André Barsacq, is a great success and receives the Brigadier Prize 1960.


---
Last years
After having made the headlines following an indictment for drug trafficking at the end of the 80s for heroin and cocaine possession., it is again under the spotlight in the Elf case in 1991. She had received money for helping in a political case. Having never declared this sum to the tax authorities (9 million francs - 1 million euros today), Françoise Sagan was sentenced, in February 2002, to a one-year suspended prison sentence for tax fraud and had to pay, with significant penalties. She is ruined by her conviction in the Elf affair and must leave her apartment in Paris.
Destitute, deprived of a checkbook, she was taken in by her friend and last companion, Ingrid Mechoulam, who cared for and supported her during her last twelve years in her Parisian home. She stopped writing after her novel Le Miroir égaré, published in 1996. Sagan declined physically, soon weighing only 48 kilos.
Ruined, broken, emaciated, desperate, the novelist of "Bleus à l'âme" died on September 24, 2004, of a pulmonary embolism, in the hospital of Honfleur. She claimed to take drugs "because people are tiring and life is boring".
---
-Jade