Celebrate Historical French Feminists on Culturethèque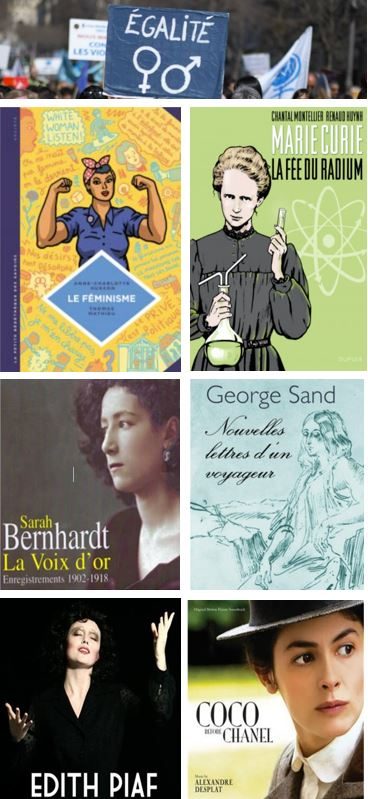 Women's Day, celebrated this week around the world, was officially declared international Women's Day on March 8, 1911. During the French Revolution, women fought for equality, equal rights with men, and representation in the royal advisory councils. Eight hours of work, decent wages, and the right to vote in politics were also listed in their revolutionary process. These struggles, which began then, gradually spread throughout the world in the early 19th century and began to create a remarkably extraordinary awareness among women. The women began to realize what their strengths were. These struggles took place against the social tendencies of feminism, degrading women, exploiting women to their advantage, and excluding them as a woman with international Women's Day serving as the culmination of these struggles. Just who were these French women that started the process and continued their advancement in multiple fields over the ensuing years.
A brief overview of a many of these exceptional women is provided here in our blog series and you can explore complete texts and more about them on the AFSF Culturethèque e-library. From Olympe de Gouges to Simone de Beauvoir, an engaging graphic bande dessinée, entitled Le Feminisme , retraces key events and slogans, along with the major stages of the French feminist movement and explains its key concepts. Another biographic bande dessinée covers the fascinating life of Marie Curie recipient of two Nobel Prizes and the first woman to teach at the Sorbonne in Paris. You can read some of the complete novels written by George Sand (née Amantine-Lucile-Aurore Dupin) or an easier abridged version of her famous novel La Petite Fadette. Or listen to original recordings of Sarah Bernhardt performing on stage, recorded by American inventor Thomas Edsion during her 1880 American tour. You can also enjoy numerous album collections of the remarkable musical ballads of Edith Piaf including her most famous La Vie en Rose. Or dive into the early days of Parisian haute couture with the original movie soundtrack of the film depicting the life and times of Coco Chanel.
Visit the AFSF Library page for instructions on how to sign up for the Culturethèque e-library. Bonne lecture des feminists française!