Bastille Day reading on Culturethèque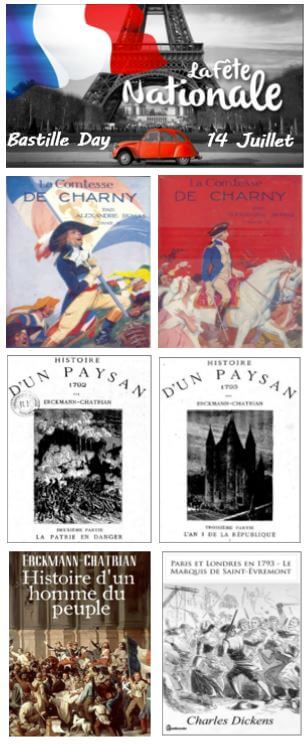 Bastille Day is a holiday celebrating the storming of the Bastille—a military fortress and prison—on July 14, 1789, in a violent uprising that helped usher in the French Revolution. Besides holding gunpowder and other supplies valuable to revolutionaries, the Bastille also symbolized the callous tyranny of the French monarchy, especially King Louis XVI and his queen, Marie Antoinette. Much like the Fourth of July in America, Bastille Day—known in France as la Fête nationale or le 14 juillet (14 July)—is a public holiday in France, celebrated by nationwide festivities including fireworks, parades and parties.


You can discover many great novels set in this important historical period on your AFSF Culturethèque e-library:

You will love reading the Alexandre Dumas series La Comtesse de Charny replete with historical figures; events, both great and small; seminal speeches and decrees; philosophical ruminations; and plenty of drama. Dumas brings historical figures to life, in this story of the royal family in the last days of the monarchy of France and the struggles of the people on every side, and more than their historical struggle, their personal struggles as well.
Another novel series Histoire d'un Paysan, jointly written by Erckmann-Chatrian, spans the years 1789 to 1815 from the perspective of a French peasant family which the great history inevitably divides over the course of events as we see the generous and loyal supporters of the Republic oppose the nostalgia for the Ancien Régime.
Erckmann-Chatrian also penned Histoire d'un Homme du People from the perspective of a French worker who witnesses the beginnings of the subsequent Revolution of 1848 and ends up taking part in it by fighting on a barricade.
Finally, the celebrated Charles Dickens novel Paris et Londres en 1793 (known as Tale of Two Cities in the original English version) set in London and Paris before and during the French Revolution tells the story of the French Doctor Manette, his 18-year-long imprisonment in the Bastille in Paris and his release to live in London with his daughter Lucie. The story is set against the conditions that led up to the French Revolution and the Reign of Terror.
Visit the AFSF Culturethèque page for instructions on how to sign up for the Culturethèque e-library.  Bonne lecture de la Bastille et de la République française !