TAPENADE
After discovering the tradition of apéro in France, discover with us a recipe that can match your glass of wine! Indeed the tapenade is a Provencal recipe invented in 1880 in Marseille. It can be made with black or green olives.
Total time: 5min

Preparation time: 5min

Serving : 6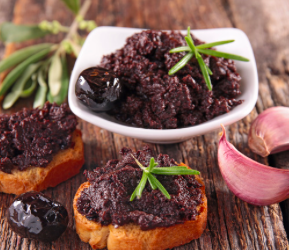 🍳INGREDIENTS:

200g black olive
8 capers
3 tablespoons of olive oil
5 anchovy fillets
1 garlic clove



- Chop the olives with a knife, then peel the garlic clove.

- Drain the anchovy fillets and dry them on paper towels

- Drain the capers.

- Place olives, anchovies and capers in the bowl of the blender.

- Blend and add the olive oil in a stream to obtain a soft mixture.
-SARAH, Thanks for your contribution!