Recipe: Riz au lait

Discover the rice pudding recipe!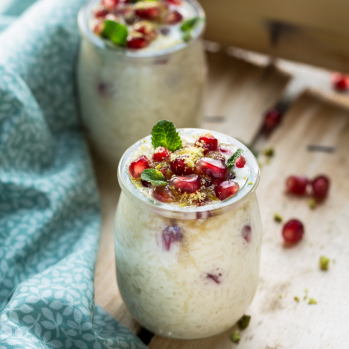 Ingredients for 4 people:
- 1 lemon peel
- 1 packet of vanilla sugar
- 5 tablespoons of sugar
- 1 L of milk
- 100g (0.22lb) round grain white rice
How to cook RIZ AU LAIT?
1. Boil the milk with the sugar, vanilla sugar, and lemon zest.
2. When the milk is boiling, throw the rice into the water and lower the heat so that the boiling is very slow: the rice must cook very slowly!
3. When the rice is just above the milk, turn off the heat and let it cool; the rice will finish soaking up the milk as it cools.
4. You can serve the dessert warm or cold and decorate it with the ingredients of your choice (fruit, zest...)
Et voilà!
Did you know it? Rice pudding originates from Eurasia. It was considered as a medicine in the 1st and 2nd centuries!
However, the recipe evolved a lot and it became a dessert in French cuisine, as we know it today, in the 19th century.