Recipe: Profiteroles
Want to impress your guests with a gourmet and timeless recipe? Find out how to make profiteroles!

Ingredients:

For the choux pastry :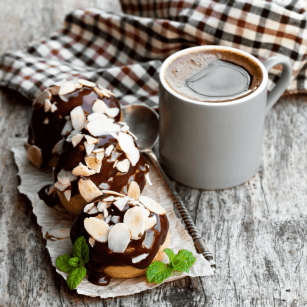 - 50 g sugar
- 1 pinch of salt
- 125 g of flour
- 25 cl of water (1 cup)
- 60 g of butter
- 4 eggs
For the chocolate sauce:
- some milk
- 50 g of chocolate
For the filling:
- vanilla ice cream
If you need help converting the units : Kitchen Calculator


How to make profiteroles:
1. To make the choux pastry, put the water, butter, sugar, and salt in a saucepan on a hotplate.
2. Bring the water to a boil. Remove from heat and pour in the flour.
3. Stir to make sure there are no lumps.
4. Stir the dough over the heat until it comes away from the sides of the pan and forms a ball.
5. Let cool for 1 minute. Add the eggs.
6. Form the choux on a baking sheet covered with parchment paper.
7. Bake at 180°C for 20min (356°F).
8. Once the puffs have cooled, make the chocolate sauce: melt the chocolate in a double boiler with a little milk.
9. Cut the choux in half and garnish with a scoop of vanilla ice cream. Pour the chocolate on top.

Et voilà !

Did you know that...? Originally, profiteroles were not a sweet dessert but a dish made of cabbage stuffed with stew!