Recipe: Financiers
Alerts to all food lovers! Discover this recipe for financiers, delicious almond cakes from the Lorraine region in France. These little cakes are crispy on the outside and soft on the inside and will delight young and old...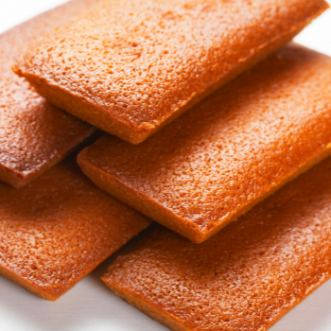 Ingredients
For 5 people
150 g of sugar - ¾ cup

130g of butter - 9 tbsp or a little bit over 1 stick of butter

3 egg whites

80 g of almond meal - 3 oz

50 g of flour (0.11 lb) - 1,76 oz
If you need help converting the units: Kitchen Calculator
How to make Financiers
Heat your oven to 350°F. Melt the butter and let it cool.

Mix sugar, flour, and almond powder.

Whisk up egg whites, add them to the mixture, and mix.

Incorporate the butter into the preparation.

Pour the dough into the moulds without filling them too much.

Bake for 15 to 20 minutes, depending on the oven and the size of the cakes. The financiers are cooked when they have a nice golden color and when a blade inserted comes out dry.
Régalez-vous !

Did you know that? Traditionally these small oval-shaped cakes were called Visitandines. In fact, in the 17th century in Nancy in the Lorraine region of France, these little pastries were prepared by the sisters of the Visitandines order. Around 1890, a Swiss pastry chef named "Lasne" brought this pastry back into fashion. Since his store was near the Bourse, his clientele was made up largely of financiers who wanted to eat a small cake on the go without getting their fingers dirty. Lasne also had the idea of changing the oval shape of the original pastry to evoke that of a... gold ingot. The financier was born!