L'aligot
This specialty of Aveyron is called the 'ribbon of friendship' in reference to its texture.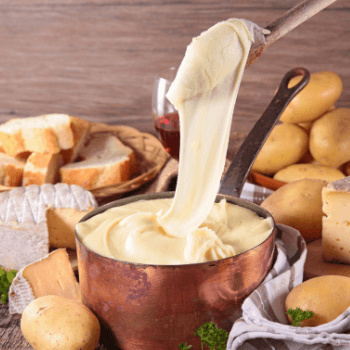 Ingredients

1.2 kg of potatoes

450 g of fresh tomme cheese

240 g of heavy cream
Salt and pepper
3 cloves of garlic

If you need help converting the units: Kitchen Calculator
Recipe

Wash and peel potatoes.
Peel the cloves of garlic and cut them in two.
In cold salted water, dip the potatoes with the garlic cloves, then heat. Allow about 20 minutes of cooking from the boil (increase if necessary, the potatoes must be well cooked for the purée).

While the potatoes are cooking, cut the tome or shred it.
When the potatoes are cooked, press them to obtain mashed potatoes.
Add the hot, heavy cream and add it with a wooden spoon to the purée. On very low heat, continue by adding the tome and stirring vigorously. The idea is not to cook but to melt the cheese.
When the preparation starts spinning, it is ready; season with salt and pepper and serve it hot.
Et voilà! Bon appétit!