Hummus
Hummus is a Middle Eastern classic for a reason. Smooth, creamy, and with a uniquely rich taste, it's a frequent addition to dinner tables across Lebanon. Every home cook has their own version. This delightful recipe keeps it simple but will definitely make you feel good. There are only four ingredients in this super-easy, quick, convenient, and delicious recipe.
Ingredients:
15 oz Chickpeas, canned
2 Garlic cloves
1 Parsley, Fresh
3 tbsp Lemon juice
2 tbsp Tahini
1 Paprika
1/2 tsp Salt
1 Olive oil, Extra virgin
How to make it:
STEP 1: Prepare the ingredients: There are only 4 ingredients, so it's not too difficult. Preparing the chickpeas is the only time-consuming part since you'll either have to pressure cook them, boil them, or soak and peel them.
STEP 2: Puree the chickpeas in a food processor until they become a powder.
STEP 3: Add the remaining three ingredients and process for 4-5 minutes until smooth and creamy. You may need to stop the processor occasionally to scrape down the sides. If the hummus looks grainy, we recommend adding an ice cube or two to help smooth the mixture.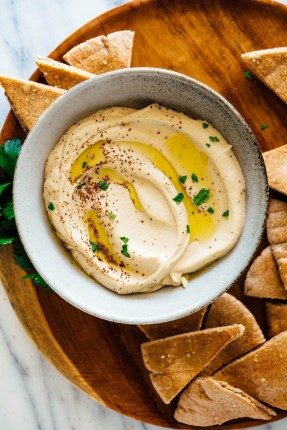 Enjoy!