BRIOCHE DE PÂQUES
Easter is coming soon! If you are tired of eating chocolate, you can choose the Brioche de Pâques :)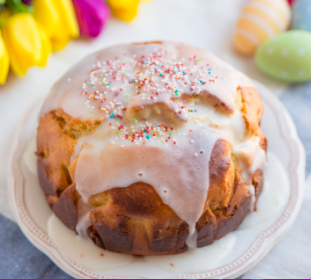 Total time: 40min

Cooking time: 20 min

Serving: 6
🍳INGREDIENTS:
- 500g flour
- 90g butter

- 25cl milk

- 20g baking powder

- 8g salt

- 70g powder sugar

- Almond
Put the milk, butter and baking powder in a bowl. Mix until you obtain a homogeneous mixture. Add the flour, powdered sugar and salt. Knead the mixture for about 10 minutes by hand.
Cover the bowl with a clean cloth and let the dough rest. When the dough has doubled in volume, degas it by hand.
Divide the dough into 6 balls and place them in a round dish, spacing them well. Cover with a clean cloth and let rest until the dough doubles in size again.
Using a food brush, brush the brioche with milk to give it shine, then sprinkle some with almonds.
Bake in a hot oven for about 20 minutes, depending on your oven.
JOYEUSE PÂQUES
Sarah, Thank you for your contribution!