Proust for Beginners,
- with Caroline Weber, professor of French at Barnard and author of Proust's Duchess -
"Have you read Marcel Proust? Do you just pretend to have read him? Are you afraid to even crack open In Search of Lost Time (À la recherche du temps perdu) ? No need to panic. Barnard's Caroline Weber, a Proust expert, introduces us to the man, his milieu, his era, and his writing.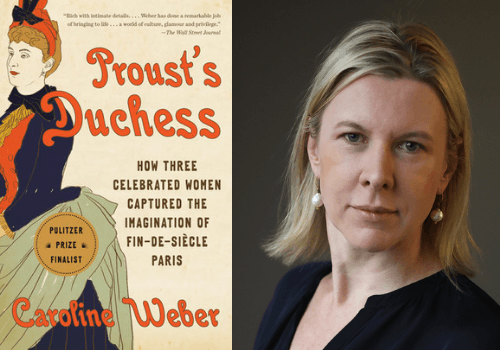 Caroline Weber is professor of French and Comparative Literature at Barnard College, Columbia University; she has also taught at the University of Pennsylvania and Princeton. She's the author of Proust's Duchess and Queen of Fashion: What Marie-Antoinette Wore to the Revolution ,and has written for The New York Times, London Review of Books, and many other publications. She's currently a Guggenheim Fellow and a fellow at the NYPL Cullman Center for Scholars & Writers. She lives in New York City."
In conversation with Pamela Druckerman (as part of her PandemoniumU series). Pamela Druckerman is the author of five books including Paris By Phone, a rhyming picture book for kids.

On Friday June 25 at 9am (Pacific time), connect here via Zoom.
---
Source: Pandemonium U

Many thanks to the three sponsors of this class:
The Federation of Alliances Françaises USA promotes French language and culture through 100+ Alliance Française chapters across the U.S.
The Cultural Services, a division of the French Embassy in U.S., helps Americans access French culture by bringing artists, authors, educational and university programs to American cities, and building partnerships between French and U.S. institutions.
The American Library in Paris is the largest English-language library on the European continent, now celebrating its 100th year as a cultural bridge between France and the US.