Le Grand Quiz AFSF: The results are here!
Last update: Oct. 2, 2021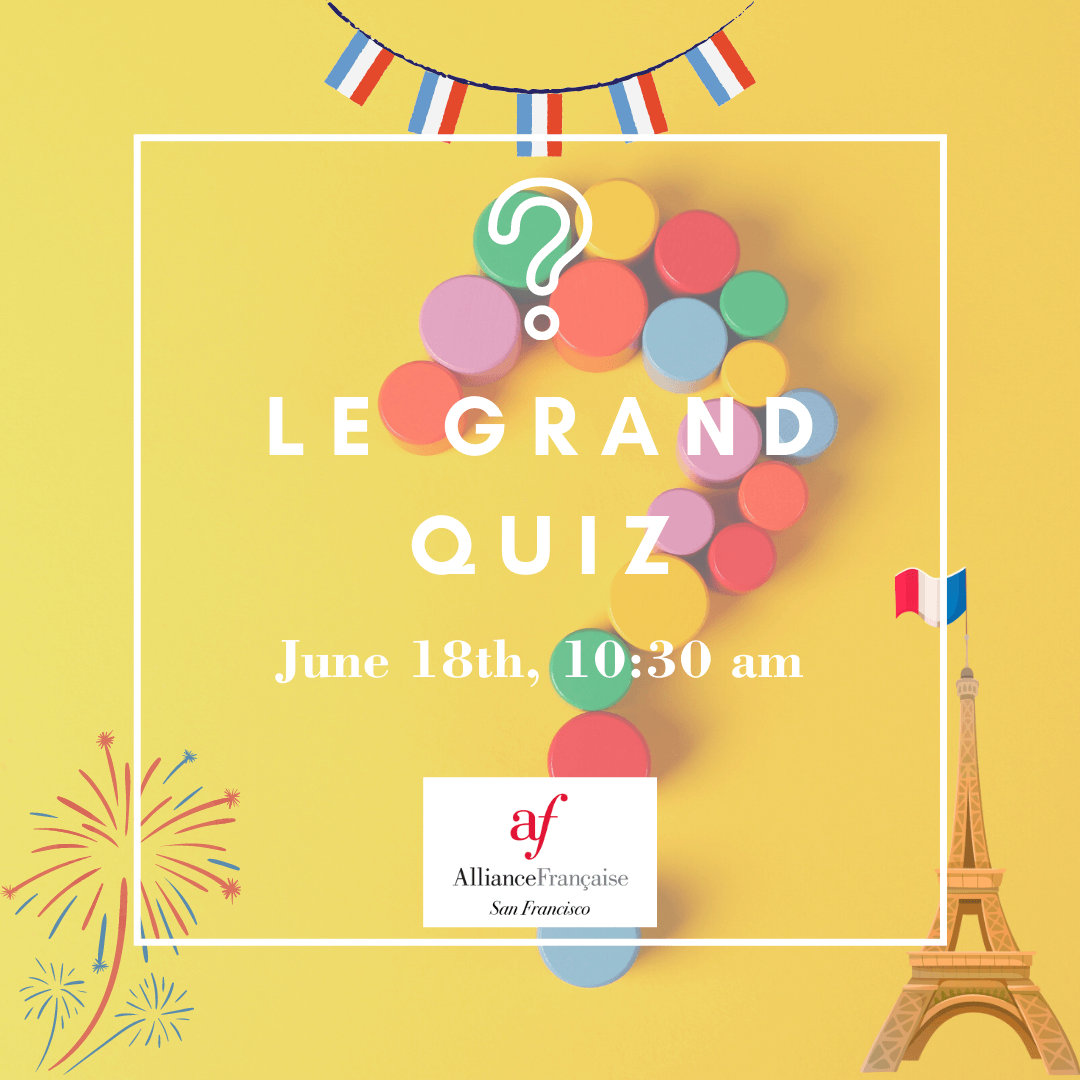 Game reminder

On June 18th, Le Grand Quiz AFSF was organized to challenge your knowledge of the French culture and for you to be the one to represent the Alliance Francaise of San Francisco nationally and internationally!
The Inter-Alliance Challenge is based on a simple and easy to implement concept: students meet and challenge each other online using questionnaires on French culture.
The competition is held in three stages:
- locally (June 18th),
- nationally (September 25th), and
- internationally (November 27th).
Three winners from November 27th will be rewarded with a language stay at the Alliance Française de Rouen Normandie, including transportation and accommodation.
Participants must be at least 16 years old and at B1 level.
Participation is free.


CURIOUS? DO YOU WANT TO KNOW SOME OF THE QUESTIONS ASKED?
We made a short list of what the participants answered to on Kahoot (translated):
How many people across the world speak French?

Where did Napoleon 1st die?

The European Parliament seat is located in...

How many countries does France share its borders with?

Cannelé is a typical dessert from the city of...

The Statue of Liberty is the masterpiece of a French sculptor. True or False?

Which French king was nicknamed "le Roi Soleil"?

On July 14, 1789, date of the French Revolution, people seized the Bastille. But what was the Bastille?

If you want to see more of these questions or try to play the game, you can go on the following Kahoot links
(the quiz is in French):
CONGRATULATIONS!
Now we can talk about what you are expecting the most: the quiz winners!

1) June 28: Le grand quiz AFSF
The 2 AFSF winners of Le Grand Quiz AFSF are.... Nancy Ruiz and Liz Chroman!
Congratulations to both of them! They are eligible to participate in the USA final!
And thanks to all participants!
2) September 25: Challenge inter-alliances USA
Congratulations to Nancy Ruiz who won the challenge inter-alliances USA!
The United States final brought together 7 participants from 4 Alliances Françaises (Minneapolis, New Orleans, San Francisco, Philadelphia). Congratulations also to the participants who made it this far.
"I had a great performance. I am so glad for having Yasmine and Coline at the AFSF. They taught me a lot of French culture and gave me many pointers to improve my French! "