Alliance Francaise San Francisco French classes and Francophone cultures
›
Products
›
Af-masterclass-sulk-virtual-scented-treks-in-southern-corsica
Masterclass Sulékó - Virtual scented treks in southern Corsica
Description:
🇫🇷👃 EXCLUSIVE EVENT! Have you ever heard of Corsica, the island located in the South of France? Imagine a mountain, which has fallen from the skies into the Mediterranean Sea...In the summer, the island is covered by immortelle and exhales its enchanting scent. Experience this magical moment through the eyes of a passionate perfume designer in English 🇺🇸!
"I will first tell you about immortelle; its story, how and where it grows. Then, after telling you how the brain processes smell and stores scented memories, I will share with you three of my favorite treks in Southern Corsica to discover immortelle. We will start in the maquis above Porto Vecchio, the famous Corsican scrubland, then we will explore the salt marsh of Porto Vecchio at the mouth of river Fiume Stabiaccu, finally we will hike on the shores of Bonifacio and across the magical Lavezzi Islands (natural reserve). Watching my pictures, you will fully immerse into Southern Corsica and together we will unlock the scented atmosphere of each trek. You will then discover how climate, location and soil impact your perception of immortelle. Finally, I will show you how immortelle is processed to obtain a precious "absolute" for perfume creation. I will tell you about the language of scents and the secret messages locked in the scent of immortelle. I wish to bring to your home the beauty and poetry of Corsica in full bloom and inspire you to visit it yourself one day!"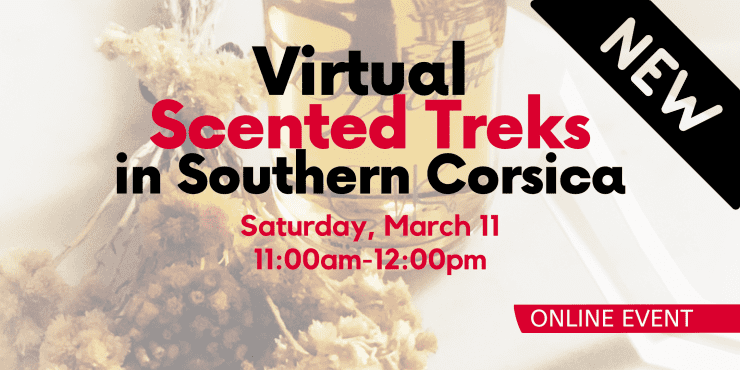 LIMITED NUMBER OF TICKETS! As we prefer small groups to encourage exchanges, there is a limited number of places available. Registration closes on Thursday, February 23.


📌How does it work?
Prior to the event, each participant will receive by mail an envelope containing one dried immortelle, one paper-strip infused with immortelle "absolue", one paper-strip infused with a Sulékó perfume composed with immortelle. This shall allow the participants to discover the facets of the flower at its various stages: when it is natural, when it is distilled and when it is composed by a perfume designer to narrate a story.


📆 When? Saturday, March 11, 11:00am-12:00pm. Registration closes on Thursday, February 23.
📍 Where? ONLINE, on Zoom
👨‍👩‍👧 Who? Everyone! The event will be conducted in English!
💵 How much? $45 for non-members - $40 for members


E-mail Louise@afsf.com for any questions.


About Sulékó


This name recalls a Georgian poem, which became a very popular Russian song, "Souliko". This song is about a young man who is seeking his soul mate. It is through smelling the wonderful scent of a rose that he eventually finds her. Anastasia Sokolow, the designer, uncovered the world of perfume when she joined the Yves Saint Laurent Beauté marketing team in New York. Back in Paris, she immersed herself into this universe; she studied the history of Perfume at the Osmothèque (French Conservatory of Perfumes) and followed high-level trainings on perfume composition at ISIPCA. She then decided to pursue her dream and launched Sulékó, a Perfume House, reuniting Perfume and French Artistic Craftsmanship. Her creations were featured in Forbes, FT, Vogue… She also teach the Sulékó language of scents through live and online classes. The world of scents is fabulous and mysterious, it brought a lot of joy into her life; She now wish to share her knowledge and passion with you and invite you to experience the joy of exploring the world around you with your sense of smell!
PHOTO RELEASE: By attending this event, I hereby grant ALLIANCE FRANCAISE DE SAN FRANCISCO permission to use my likeness in photograph(s) in any publications or publicity materials (including but not limited to books, newsletters, videos and Web use), in perpetuity. I will make no monetary or other claim against ALLIANCE FRANCAISE DE SAN FRANCISCO for the use of the photograph(s).