Visit Morroco
Visit Morocco !
Located in northern Africa, Morocco is a popular tourist destination. Discover a francophone country by its cultural places !
1. The tourist capital: Marrakech !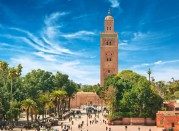 Freshly arrived, the city will immerse you directly in the Moroccan atmosphere. The Jemaa El-Fna square and the surrounding souks will take you back to postcards. Dotted with many lush gardens, the city offers a pleasant setting for a visit. One of the most famous and certainly worth visiting is the Majorelle garden, former home of Yves Saint Laurent.
2. Fès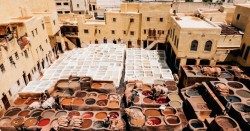 The Medina, or "old city", of Fez is reputed to be the most beautiful in the country. A visit to the Chouara tannery in Fez is also a must. The visit of the royal palace and museum Dar Batha pemret to discover the Moroccan craft industry, in particular ceramics. You can also see the massive blue gate at the entrance to the city.
3. Nature outside the cities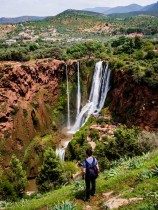 Located in the south of the country, the waterfalls of Ouzoud are 360 feets high. Look for the place where you can see the rainbow over the waterfalls. The Dades gorges are also in the south of the country. For those wishing to visit Morocco with the appearance of a Grand Canyon, it is a place not to be missed. It is not possible to speak about Morocco without the Saharan desert. Many excursions are offered to you, on foot, in 4x4, in dromedary to see the immensity of the desert.
And here are our tourist recommendations, hoping to have inspired you the desire to travel to Morocco !