Recipe : Senegalese Tuna Pastels

Head to Senegal with this delicious recipe for tuna pastels. Ideal for the aperitif, this recipe is easy to make and will surprise your guests! Serve them with a spicy sauce to follow the Senegalese tradition.
Bon appétit!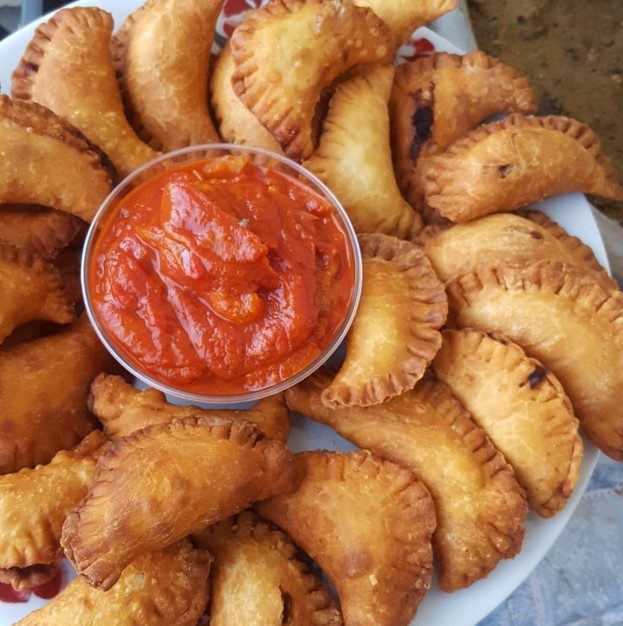 Ingredients:
(For 6 people)

For the dough:
500 g flour
50 g of butter
25 cl of milk
1/2 sachet of baking powder
2 eggs
Salt
For the filling :
1 can of tuna
1 onion
2 tbsp. tomato paste
1/2 tsp of bird's eye chili
6 sprigs of thyme
olive oil
sunflower oil
salt and pepper
If you need help converting the units: Kitchen Calculator
How to make Tuna Pastels ?
In a bowl, mix the flour, salt and yeast. Dig a well.
With a whisk, beat the eggs, milk and melted butter. Pour the mixture into the flour well and knead the dough with your hands. Make sure it is not sticky, add a little flour if necessary. Let rest for 1 hour.
In a frying pan, pour a little olive oil. Peel and chop the onion, fry it in the oil, add the tomato paste, salt and pepper. Thin out the sprigs of thyme, add a little chilli to the preparation and mix.
Drain the tuna and add it to the rest, mix and reserve your stuffing.
With a rolling pin, roll out the dough on a clean work surface. Cut out small circles with a cookie cutter.
In each circle, add a bit of filling to one half and fold the dough over with the other half. Your pastels should be shaped like a half moon.
In a saucepan, brown some sunflower oil. When it is hot, dip the tuna pastels in it and fry them for 5 minutes, until they are golden brown.
Serve hot, accompanied by a tomato spicy sauce.
Did you know it ?
These little fritters are a kind of street food in Senegal, you will find them at every street corner. They are constantly served with a spicy sauce!

Recipe : https://www.cuisineaz.com/
Photo : http://siacook.blogspot.com/