Recipe : Provencal Turkey
Head to the land of sunshine: Provence! This small region in the south of France is THE destination for Mediterranean-style aperitifs! A few olives, a glass of rosé, and let's go for the menu of the day: turkey à la provençale !
Ingredients
(For 3 people)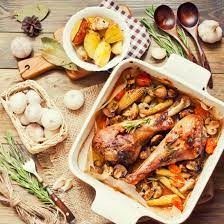 1 turkey leg
1 bunch of pitted green olives
1 small can of crushed tomatoes
1 vegetable stock cube 3 or 4 carrots
1 shallot
1 onion
1 small clove of garlic
Salt, pepper
1 tbsp. olive oil
Herbs of Provence

If you need help converting the units: https://mykitchencalculator.com/kitchencalculator.html
How to do the Provencal Turkey ?
1-Peel the carrots and cut them in slices Peel and slice the onion and shallot. Cut in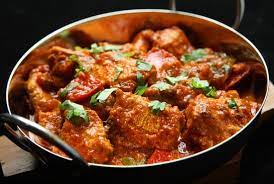 two the garlic previously peeled. (without the germ)
2-Prepare your turkey leg (without the skin), add salt and pepper on each side.
In a casserole, sprinkle a little olive oil and brown the bird on each side. When it is well browned, fry the onion, shallot and carrot slices until golden brown.
3-When all the filling is pre-cooked, add the olives and crushed tomatoes and the vegetable cube stock with a little water. Add the herbs of Provence.
4-Put the leg back into the sauce and simmer covered on a low heat for 35 minutes, turning the leg from time to time.
Serve these turkey legs with seasonal vegetables, tagliatelle, or basmati rice.

Et voilà, c'est prêt! Bon appétit!

Tips : For extra flavor, you can add mustard, smoked lardons, or white wine just before adding the olives and tomatoes to the dish!
Source : https://www.cuisineaz.com/recettes/cuisse-de-dinde-a-la-provencale-57540.aspx