Recipe : Comorian Samoussas
Head to East Africa to discover the delicious salted beef chaussons: the Comorian samoussas!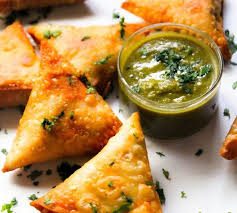 Ingredients:
(For 4 people)
400 gr of ground beef (14.10 Oz)
2 onions
1 large clove of garlic
1 carrot
1 green bell pepper
1 tsp of massala spices
1 tsp of sweet paprika salt and pepper
1/4 juice of a lemon or more
2 or 3 tablespoons of soy
1 package of phyllo dough
Oil for cooking

If you need help converting the units: https://mykitchencalculator.com/kitchencalculator.html
How to do Comorian Samoussas ?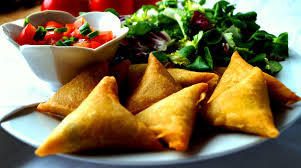 1-Roast the bell pepper in the oven for 15 to 20 minutes at 180° on the grill.
2-During this time, cook the minced meat in a frying pan without any fat, then crush it with a fork
3-Blend 1 onion and 1 clove of garlic until you get a purée, then add it to the preparation.
4-Cook the mixture, stirring regularly, then add salt, pepper, paprika, massala, lemon juice and soya, and set aside
5-Remove the skin from the roasted bell pepper and cut it into small pieces
6-Heat some oil in a frying pan and fry the second onion cut into cubes, then add the grated carrot and the grilled bell pepper cubes (fry for 3/4 min while keeping stirring)
7-Unroll the phyllo dough, you can use the square phyllo dough (cut small rectangles of dough with a scissor) or the one you can find in Turkish stores in triangle
8-Put 2 or 3 spoonfuls of filling
9-Fold like the bricks then put under a film paper so that the dough does not dry
10-Pour some oil (4 to 5 tablespoons) in a frying pan and brown the Comorian samoussas over low heat, turning them over halfway through cooking.
C'est prêt! To be served hot!

Tips: You can replace the beef with chicken, fish, or even finely shredded and pan-fried vegetables! For sweet and savory flavors, you can also add dried fruits or honey to your preparation!

Source: https://lesucresale-doumsouhaib.com/samoussa-comorien-a-la-viande-hachee-et-a-la-pate-filo/