Exploring Senegalese Literature, Music and Science on Culturethèque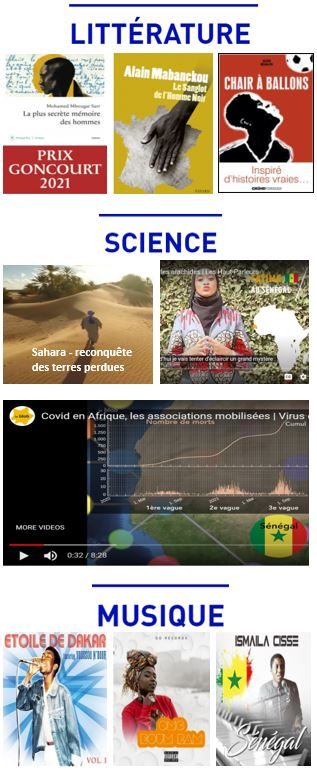 Did you know that this year's Prix Goncourt went to Senegalese novelist Mohamed Mbougar Sarr, making him the first writer from sub-Saharan Africa to be awarded France's oldest and most prestigious literary prize? Would you be surprised to learn that Senegal is among the 11 African countries working on the Great Green Wall project to plant trees in an 8,000 kilometer-line spanning the entire continent, creating a natural barrier to hold back the Sahara Desert as climate change sweeps the sands south. Or have you heard that traditional Senegalese music plays an important role in a therapeutic context to bring healing from mental and physical suffering?
The Literature of Senegal is among the most important in West Africa with most works written in French. Senegalese literature has long been known worldwide through the writing of poet and statesman Léopold Sédar Senghor, a great defender of the French language and of Negritude. Other now-classic authors include novelists Cheikh Hamidou Kane, Birago Diop, Boubacar Boris Diop, and Ousmane Sembène. The latter is known for bringing some of his own novels to the screen. Major essayists include Cheikh Anta Diop and anthropologist Tidiane N'Diaye. Women writers have been particularly active. In 1980, Mariama Bâ described polygamous society with great sensitivity in Une si longue lettre. Aminata Sow Fall, in La Grève des Bàttu (1986), showed that the lower classes were not without resources. More recently, Fatou Diome has found success with Le Ventre de l'Atlantique (2004), a novel depicting, often with humor, the dreams of escape of Senegalese youth.
In addition to the Great Green Wall project, other important Sengalese contributions in the realm of science include their work with the COVID-19 Platform Operational Research Group, coordinated by the Development Research Institute (IRD) and the World Health Organization (WHO) for the West and Central Africa (WCA) region. In Africa, the Ebola and HIV epidemics have strongly mobilized associations. While the latest waves of Covid-19 are wreaking havoc on the population, can the experience gained during previous epidemics curb this scourge? A collaborative approach led by the IRD, combines research and social sciences in Senegal and Burkina Faso. In the field of global agriculture, a young Senegalese doctor Ameth Diagne created a nanotechnology process that uses silver and silica nanoparticles to protect peanut crops against insect pests and microbial proliferation in fields and in storage areas. This makes it possible, for example, to avoid impacts on the health of consumers but also that the goods fall within the standards in order to be exported abroad.
Among the fabled musical sounds of West Africa, Senegal is a land of musical giants. Senegal has long been an epicenter of West African musical creativity. With its rich griot tradition and expansive urban centers, Senegalese music can be everything from far-reaching ancient roots to sci-fi modern grooves. A roll call of the legends includes Baaba Maal, Cheikh Lo, Ismaila Cisse and Youssou N'Dour alongside contemporary sounds from the rootsy kora of griot Diabel Cissokho to the cutting-edge Sister Fa.
You can explore the works of these and many other celebrated famous Senegalese authors, scientists and musicians on our AFSF Culturethèque e-library. Bonne apprentissage de la littérature, la science et la musique Sénégalaise.