Explore French Magazines and Newspapers on Culturethèque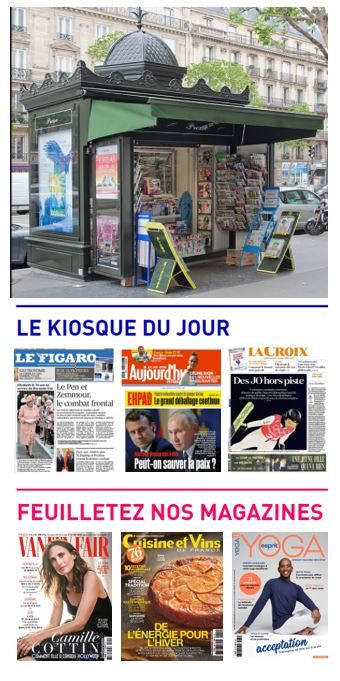 How about starting your mornings off the French way? Grab a café and croissant and read one of your favorite French newspapers (journaux). Newspapers are often forgotten when it comes to learning a new language. Still, they are a great reading tool to develop your comprehension of the language. They can help you focus on a specific type of vocabulary, build a repertoire regarding up-to-date subjects, or simply feed your curiosity about France's overall situation. This helpful article discusses the many different types of French daily (quotidien) newspapers along with their focus topics and political leanings spanning centrist (Le Monde), conservative (Le Figaro) and progressive points (Libération) of vue. Whatever your interests, be it business, politics, sports or world news, you will find a French newspaper to your liking. Your AFSF Culturethèque e-library is ready to help by serving up many current daily issue journal selections for your reading pleasure. Visit "Le Kiosque du Jour" in the Culturethèque Presse section for the latest new daily publications or search by newspaper if you want to see all of their recent news. Catch up on the latest international events from a French perspective while expanding your vocabulary and world views.
French Magazines are also a great way to explore your many interests and enhance your French at the same time. Fortunately, there are loads of French magazines to choose from - and your Culturethèque e-library is at your disposal once again to provide easy access to them all. News, Sports, Cuisine, Fashion, Film and more. Search by date, subject or a specific publication and you will be sure to find current issues that will pique your interest. What's so great about the structure of a magazine is that it's filled with many different kinds of content. One page will contain a photo essay, another a crossword puzzle, and yet another a long feature. This is great for learning a new language because you experience it in several different ways in one single publication. This helpful FluentU blog discusses the many advantages of adding French magazines to your reading repertoire in order to challenge your brain and adapt new levels of fluency. It also suggests many great titles to look for by subject – see how many you can find on our Culturethèque e-library.
You can explore all of these interesting newspapers and magazines on our AFSF Culturethèque e-library. Bonne lecture des journaux et magazines numériques !