Tips from AFSF learners
- Margarita shares her French learning journey -

This week, it's Margarita's turn to share some practice tips that can help you in your own French learning journey.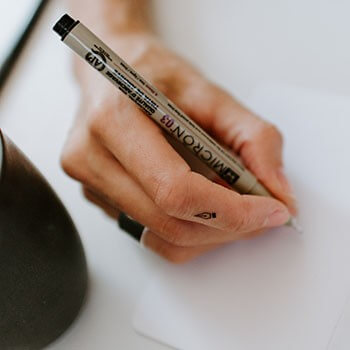 "Quand j'ai commencé mon apprentissage de la langue française, tout était difficile pour moi: la grammaire, la prononciation, la conversation et l'écoute - toutes les nuances de la langue. 
Je me souviens du sentiment accablant et de la peur. Mais avec le temps j'ai appris comment m'avancer et progresser. 
J'appelle la première astuce - "toujours en écrivant". Je trouve que la meilleure technique pour mémoriser les verbes, leurs conjugaisons et tous les nouveaux mots en général, est en utilisant un carnet et un stylo. Il y a beaucoup des recherches scientifiques qui confirment qu'écrire à la main aide à mieux mémoriser. Personnellement, j'achète un beau carnet et un stylo pratique, comme ça j'aime les utiliser. 
La deuxième astuce - je regarde les films en français avec les sous-titres français, pas anglais. Je trouve cette technique pratique parce qu' il me permet d'écouter et de lire en même temps. Je m'habitue au son de la langue et à la façon dont les mots sont écrits.
Également, il est important d'avoir une routine et de consacrer au moins 20 minutes par jour: par exemple: pour lire un petit texte, écrire son opinion sur quelque chose, regarder une vidéo, parler avec quelqu'un, etc. Il vaut mieux faire quelque chose tous les jours que de temps en temps."