Get ready for your French journey! - about Covid-19, etc.
Last update: August 16, 2021
Travelers from the USA can now visit France. While vaccination against Coronavirus is going on in both countries, requirements to travel in both sides of the Atlantic Ocean evolve. Here are useful links to find what you need to know to prepare your trip to France.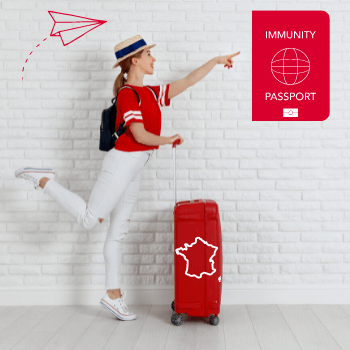 * Vaccination status, PCR test, and sworn statements?
Read this article on the Consulate of France in San Francisco's website: "France reopening update : June 16, 2021"
* How to get a French health pass if you received your Covid-19 vaccine in the USA?
On July 12, French President Macron stated that a health pass (passe sanitaire) will be needed to enter events with more than 50 people but also for long-distance trips as well as cafes, restaurants, medical facilities, and shopping centers. These plans have been approved by the French parliament.
Read this page and this one on the US Embassy in France's website. Note that France is currently under a Level 4 - Do Not Travel travel advisory.
Also read this useful page on the website of the French Embassy in Washington (published on August 9) to learn how to get a COVID certificate for vaccinated non EU-tourists visiting France. The system is currently open for people age 18 and above who are already in France or who are traveling to France on or before August 15
* During your stay in France, download and activate the TousAntiCovid application.
When you activate this application, you will be notified and will alert peoplequickly in the event of exposure to Covid-19.
* Where to get data about the Covid-19 situation in France and in specific regions?
On the website Santé Publique France (in French only).
* This FAQ contains information for foreign nationals wishing to enter France or already in France, who are affected by the COVID-19 pandemic: Coronavirus advice for foreign nationals in France.
* If you have a French Social Security Number: here are some tips to transform your CDC Covid-19 vaccination card obtained in the USA into a Pass Sanitaire