French tips: Perfect your French with the Bonjour French films course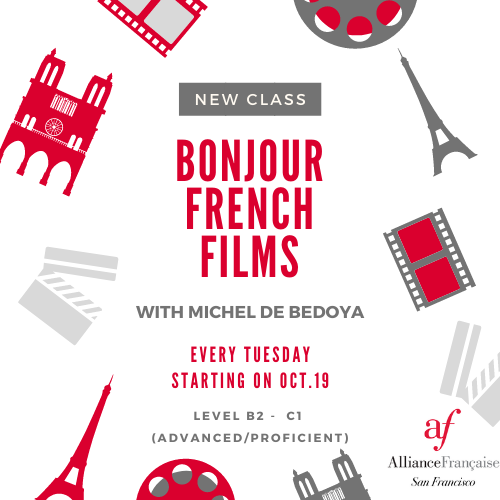 Bonjour French Films is a class that touches all facets of cinema to help people discover its richness. The students are led to discover a new way of appreciating the short films and trailers, the extracts, the posters, the actors and finally, the synopsis of a film which will be support of exchanges and discussions. A fun way to continue to progress in French and to discover the Francophonie!
This class will allow you to practice language elements such as:
Physical description, spatial, character

Write a synopsis

Tell a movie

Make assumptions

Debate

Write a scenario

Write a movie review

Starting on Octobre 19, this class will be held every Tuesdays, from 6 pm to 8:30 pm. This new French course is taught by Michel de Bedoya. Read his bio here.
Register in a few clicks for the new session of French classes! This course is designed for students with a level B2 (Advanced) and above.