French Tips:
Discover Switzerland and some vocabulary!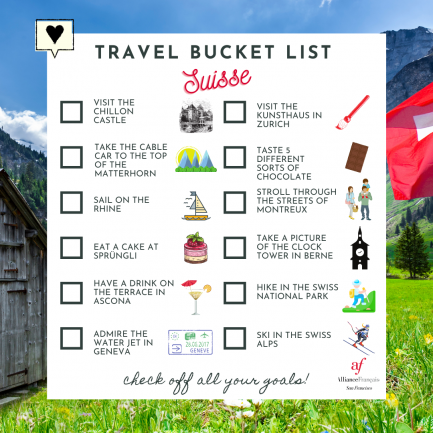 Switzerland is a mountainous country in central Europe with many lakes and villages as well as the high peaks of the Alps. This country has four cultural and linguistic regions and therefore four national languages: German, Italian, Romansh and... French!
Vocabulary Tips
le téléphérique = the cable car
se balader = to stroll
un jet d'eau = a water jet
une horloge = a clock
le relief montagneux = the mountainous relief
un lac = a lake
l'Assemblée Fédérale = the Federal Assembly
What is it?
The Chillon Castle : This castle is located on the shores of Lake Geneva. Surrounded by a natural moat, the castle is accessible by the lake. An exceptional heritage monument, the Chillon Castle exhibits nearly three hundred objects on its tour.
Sprüngli : This Swiss confectionery is very famous for its chocolates and other pastries. You can taste them in the Terrace in Zurich.
The Kunsthaus : It is the museum of fine arts of the city of Zurich. You can see an important collection of European works from the late Middle Ages to the contemporary period.
---
And if you want to discover more about Switzerland, discover the episode of our podcast En Vadrouille. 
On the program?
Let yourself be guided during a walk to discover the French-speaking part of Switzerland, along Lake Geneva (le Lac Léman). An itinerant discovery that will take us to Vevey. A city where once a generation, the winegrowers' festival is celebrated. An emblematic custom since it has been organized a maximum of five times per century since 1797.
Direction the city of Montreux where we meet Laurent Wehrli, representative of the population at the Swiss Federal Assembly. He gives us his testimony on the history and the particularities of this singular city located between lake and mountain.