Visit Martinique: Six tips for what to do
Happy January! Wherever you happen to be celebrating the beginning of 2023, today we will take you to a nice and warm island of Martinique. Martinique is one of the French Overseas Departments located in the Caribbean Sea. The official language is French and Créole Martiniquais, currency in euro and population is 360,000. The Martinican heritage is rich in vestiges and survivals of the past, which you can explore in its many museums, gardens or even distilleries. Here is our list of six things to do in Martinique for all kinds of travelers.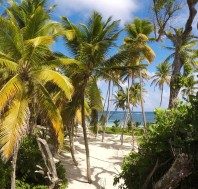 Explore Martinique beaches: if you live in a country with a cold climate, or just with regular winters, Martinique is a place to be if you feel like escaping the cold. In this island you are never too far from a beautiful combination of white sand, corals and palm trees. In fact, the beaches are one of Martinique's main tourist attractions. All of the beaches are easy to access and you will find an ideal type for everyone, from family friendly ones to untouched shorelines. Among the most famous are Anse Noire, Grande Anse des Salines and Anse Mitan.
Discover Saint Pierre: Saint Pierre was Martinique's main harbor up until the eruption of the volcano in 1902 which destroyed the whole city and killed its inhabitants. Current city is built on the ruins of the former one. You can learn more about its history in Musée Vulcanologique Franck Perret and you can also see some of the ruins and shipwrecks.
Hike the Montagne Pelée: Montagne Pelée is the actual volcano that destroyed Saint Pierre. It is a sleeping volcano today and you can hike up to its top (4583 ft). If the weather is nice you will have a beautiful view over the Atlantic Ocean.
Dive into Balata Garden: Balata Garden is considered to be one of the top relaxing Martinique's attractions. It's a botanical garden with more than 3,000 breathtaking tropical plants and flowers. This is a place for a nice and calm stroll in the nature, where you can admire ponds topped with lotus flowers and water lilies, or enjoy a bird's view from the rope bridges installed between the biggest trees.
Visit l'Habitation Clément: l'Habitation Clément is a rum distillery producing some of the best rums in France, rhum agricole, originally distilled from freshly squeezed sugarcane juice. l'Habitation Clément is now converted into a museum surrounded by a vibrant park. Except for learning about the rum production, the tour finishes with a rum tasting.
Get lost in the picturesque towns around the island: If you feel like really exploring the authenticity of Martinique, you should rent a car and explore the island's many little towns, offering colorful architecture, little squares, but also colonial mansions or vibrant markets. Some of such towns are Sainte Anne or Tartane.

-Dominika, thanks for your contribution!