Reconstruction de Notre Dame : Deux Années après l'incendie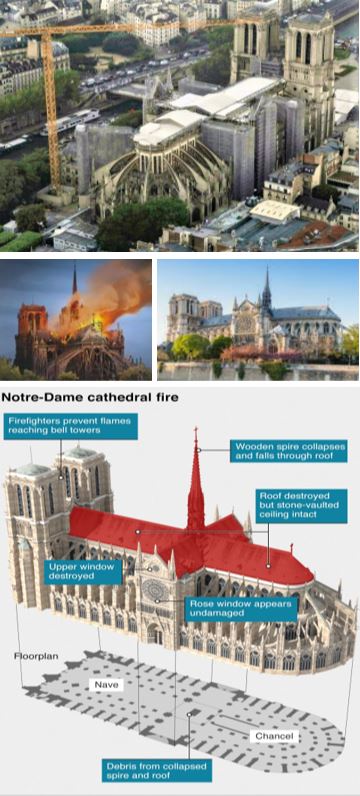 The reconstruction of Paris' Notre Dame Cathedral is finally ready to begin following two years of efforts to save the remaining parts of the iconic structure after it was damaged in a devastating 2019 fire. Following the intensive and often controversial review of numerous redesign proposals, the cathedral will be restored to its previous design. The aim is to celebrate the first full service in the cathedral on April 16, 2024 -- five years after the fire -- despite delays caused by the pandemic and the extensive recovery and restoration work required to secure the building. The church's wood latticework roof and iconic spire collapsed, but many of its most valuable religious relics and cultural treasures were spared. Notre-Dame's beloved trio of rose stained glass windows survived the blaze unscathed as did the 8,000-pipe Great Organ, and the largest bell - the 13-ton Emmanuel - notably, the church's only bell to survive the French Revolution.
The old roof structure was nicknamed "La forêt" — the forest. It was built in the 13th century from around 1,300 oak beams. For the new roof structure, 2,000 oaks will be felled. For some environmentalists, the project has been criticized generating a petition against the sacrifice of the ancient trees with 40,000 signatures. As a counter-argument, forest owners point out that the 2,000 oaks only represent 0.1% of the total annual harvest. The cathedral was built from 1163 to 1345; the wooden spire was added in the mid-19th century.
The restoration effort is seeking to meet President Emmanuel Macron's ambitious plan to reopen the cathedral within five years just in time for the 2024 Olympics in Paris. Donations for the restoration have poured in from around the world, including from some of France's wealthiest families. In the days after the fire, individuals, companies and institutions had donated or pledged 845 million euros, about $950 million, to rebuild the damaged cathedral, a jewel of Gothic architecture. At 6:20 p.m. on April 15, 2019, a smoke alarm sounded in Paris, in its world-famous Notre Dame Cathedral. But the source of the fire could not be detected, which is why only a second alarm led to the evacuation of the church. The fire's definitive cause remains unknown, but a short circuit or a discarded cigarette was suspected. However, all eyes are now focused to the future and the grand reconstruction of the world's beloved cathedral and monument.