Paris Capital of Fashion
Paris, the French capital, is known worldwide as the capital of fashion. Why has this city become the capital of fashion and not another?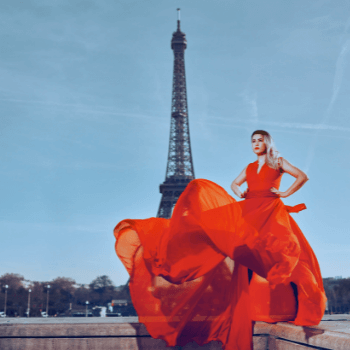 To understand why Paris has such strength in fashion, we have to go back to the time of Louis XIV, who was the king of France during the 17th and 18th centuries. Indeed, for Le Roi Soleil, nothing was more important than appearance to return a beautiful image of oneself. In his palace at Versailles, everything was luxurious, including the king's clothes.
Later, in the mid-1800s, the first Maison de Haute Couture (designer house) was created by Charles Frederick Worth. His first défilés (fashion shows) and collections were launched at the same time to build expectations from his clients.
A few decades later, people from all over the world were going to France to buy haute couture clothes. In 1910, Paris had more than 300,000 designers! During the 20th century in France, several renowned fashion designers, such as Coco Chanel, Yves Saint Laurent, and Jean-Paul Gaultier, have revolutionized the way of seeing haute couture.
Today Paris is still one of the cities where major fashion shows and the best-known Fashion Weeks are organized.
Source: Paris Info ; France Soir