Marie Curie: First woman to win Nobel Prize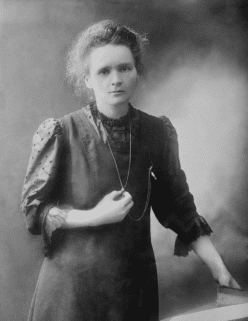 Maria Curie is one of the most important and celebrated scientists not only of the 20th century, but of all time. Curie made noteworthy discoveries in the field of chemistry, physics and medicine with far-reaching influence up to this day. She is most famous for her work on radioactivity, for which she won the Nobel Prize, and which eventually became fatal for her. Furthermore, she discovered and named elements in the periodic table and made scientific leaps that led to breakthroughs in medicine, which are estimated to have saved millions of lives.
Born Maria Salomea Sklodowska on Nov 7, 1867 in Warsaw, Poland, she was the youngest of five children. Both her parents were teachers who made sure all of their kids get an education. After finishing high school, Curie enrolled at the Flying University - as a woman she was not allowed to study at the prestigious University of Warsaw - where she started her practical scientific training. She later followed her sister to Paris, where she enrolled at the Sorbonne to continue her education. In 1906 she became Sorbonne's first woman professor. Curie married her fellow researcher Pierre Curie with whom she had two daughters. Pierre repeatedly insisted upon his wife properly receiving credits for her scientific discoveries, instead of them being attributed to him solely.
Surely her most famous discovery was radioactivity. She coined the word radioactive and with the breakout of the World War I, Curie realized the radiation of X-rays could help doctors see the bullets in soldiers' bodies. Later on her discoveries were used as a basis for cancer treatment research. Together with her husband, the couple discovered a radioactive element and named it Polonium, after Marie's homeland. They discovered another radioactive element the same year and called it radium, Latin word for rays.

Curie broke not only numerous records, but also obtained many firsts. She was the first woman to win a Nobel Prize, the first person and up today the only woman to win the Nobel Prize twice, and the only person to win the Nobel Prize in two different scientific fields. Together with her husband they are the only married couple to win the Nobel Prize together. She was awarded the Nobel Prize for Physics in 1903 for radiation studies and the Nobel Prize for Chemistry in 1911 in recognition of her work in radioactivity.
Marie Curie died in July of 1934 due to aplastic anaemia caused by being exposed to radiation over a long time. Up to this day, her notebooks are radioactive. Marie is buried together with her husband in the Pantheon in Paris. She remains one of the most influential women figures in history and is a role model for thousands of girls pursuing science.


-Dominika, thanks for your contribution!