LUPIN Inspiration Novel Series on Culturethèque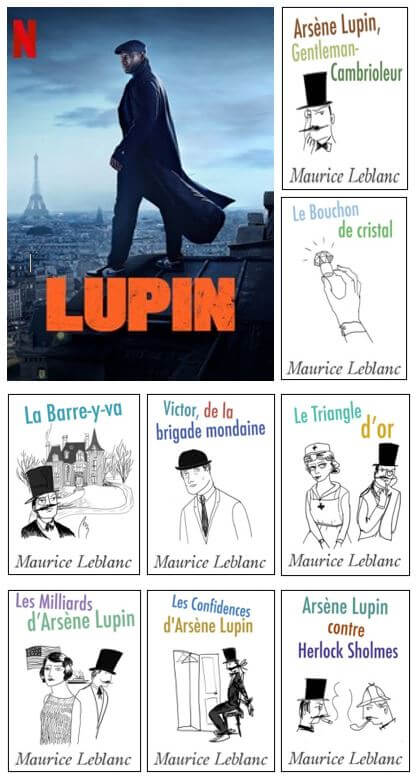 The French created international hit mystery television series entitled LUPIN just dropped its much anticipated second season this month on Netflix to the delight of its viewers.  Inspired by the original Arsène Lupin mystery novels penned by French author Maurice Leblanc in the early 1900s, renewed interest is once again mounting about the history of the captivating character. Known to his readers as a gentleman cambrioleur (thief), Arsene Lupin has often been compared to Arthur Conan Doyle's great detective Sherlock Holmes of the same era. The charismatic burglar however is a reversal of Holmes in almost every way, though they share considerable smarts and an affinity for disguises.
We have great news for those of you who would like to learn more about LUPIN and discover the original mystery novel series.  Your AFSF Culturethèque e-library brings you the entire inspirational Arsène Lupin e-book collection for your reading pleasure. You can work on your French reading comprehension skills while exploring the fascinating original adventures of Arsène Lupin.  Though Lupin frequently travels on the wrong side of the law, his noble code of ethics often showcases him using his talents for good. After reading the stories you can then take up the challenge of viewing the LUPIN Netflix series starring Omar Sy, expertly portraying an entirely modernized version of the famous character. For those that are new to watching French film series to practice your listening comprehension skills, this informative video offers some great viewing tips and reminders to get the most out of the series for your French learning (apprentissage) journey. Whether you read the original novels or watch the popular series, you are sure to be entertained along the way.
Visit the AFSF Library page for instructions on how to sign up for the Culturethèque e-library. Bonne lecture et bon visionnage de la série LUPIN !