Les Fables de la Fontaine: A Bedrock of French Culture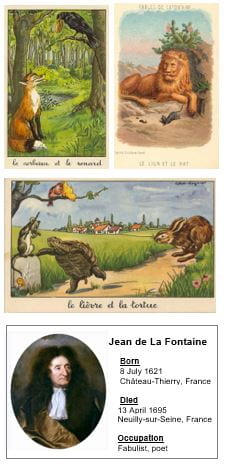 Les Fables de la Fontaine are considered a classic of French literature, and remain a cornerstone of common French culture to this day. Jean de La Fontaine collected fables from many sources, including the Greek Aesop, and reworked them into some of the greatest, and best-loved, poetic works in the French language using his literary talents and keen eye for human nature. Published around 1670, in the century of Louis the XIV, the Sun King, it is widely accepted that he was not the original creator of the tales but rather inserted fresh new narrative devices, metered structure and his clever wit into the original folk-tales.  His later works even include veiled democratic sensibilities and social comment. But above all, the fables were entertaining – lively stories artfully presented with subtle comments on life and morality. The year 2021 marks the 400th anniversary of the birth of Jean de La Fontaine and on this occasion, celebrations are being held throughout France to honor the famous French poet and fabulist.
Le Corbeau et le Renard (The Fox and the Crow), Le Lièvre et la Tortue (The Hare and the Tortoise) and Le Lion et le Rat (The Lion and the Rat) are among the French favorites and will likely be familiar to you as adaptations of those you may have read as a child. La Fontaine drew from a wide array of sources for his numerous volumes. His first collections were classic in origin – from the Greek Babrius and Roman Phaedrus, both sources of Aesop's fables. A second phase saw La Fontaine drawing from the Orient.  Tales translated from the Persian also made their way to France. Still others can be traced back to the Indian Panchatantra, an ancient Sanskrit set of connected animal fables recorded from traditional oral storytelling. In later efforts, La Fontaine turned to Horace and Avienus, as well as French authors Rabelais and Marot. Even Italian authors Machiavelli and Boccaccio were also tapped as sources.
You can find many of the popular fables on the internet as well as the AFSF Culturethèque e-library . Bonne lecture (ou relecure) des Fables de la Fontaine!