Le Changement Climatique: World Leaders at COP26 in Glasgow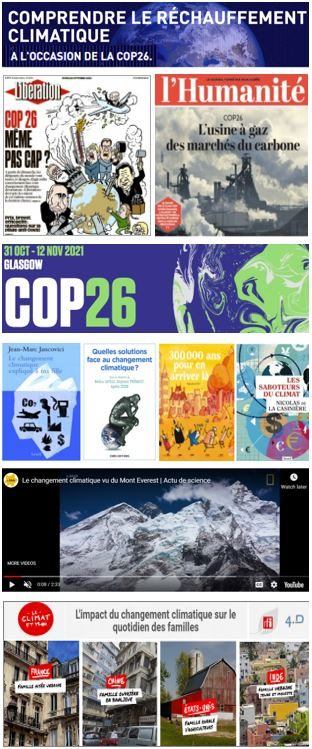 Understanding climate change (changement climatique) and how we can all make a positive impact has become a global discussion. Over 197 countries have agreed on a framework to reduce global greenhouse gas emissions in the United Nations Paris Climate Agreement. As one of the founding members, the US is very active in the agreement and President Joe Biden and his Presidential Envoy for Climate John Kerry have a had a strong presence at this year's global climate change summit in Glasgow, Scotland which concludes this week. The COP26 summit brings world leaders together to accelerate action towards the goals of the Paris Agreement and the UN Framework Convention on Climate Change. French President Emmanuel Macron called on the world's biggest emitters to catch up and "raise" their climate ambitions during his opening speech at the COP26 climate summit. The conference has tackled several climate goals among them reducing the world's dependence on coal power plants, replacing gasoline vehicles with electric models and reaching an agreement for wealthy nations to provide $100 billion annually in financing to support the climate transition in the developing world.
For nearly three decades the UN has been bringing together almost every country on earth for global climate summits – called COPs – which stands for 'Conference of the Parties'. In that time climate change has gone from being a fringe issue to a global priority. COP21 took place in Paris in 2015 where every country agreed to work together to limit global warming to well below 2 degrees and aim for 1.5 degrees, to adapt to the impacts of a changing climate and to make money available to deliver on these aims. The Paris Agreement was born to fight global warming because every fraction of a degree of warming will result in many more lives lost and livelihoods damaged.
It's hard to overstate the urgency behind those negotiations as COP26 follows a year in which, from massive wildfires in Siberia and unprecedented flooding in Germany and Belgium, to famine in Madagascar and record-shattering heat in the American West, it's become abundantly clear that climate change has contributed to increasingly frequent and severe weather events. It's also set against the backdrop of the most recent scientific report from the U.N.'s Intergovernmental Panel on Climate Change (IPCC), published in August of this year, which laid out the current state of the worlds' climate and the consequences of inaction in its starkest-ever terms. While some progress has been made in recent years, the world is still far off-track to achieve the emissions reductions goals of the Paris Accords, with countries' current commitments still likely to produce a devastating level of global heating in coming decades.
Your AFSF Culturethèque e-library has joined in the discussion this month offering a host of books, French press coverage of COP26 and educational videos about climate change for readers of all ages looking to understand the causes and impacts of human behavior on le réchauffement climatique (global warming). Also available on Culturethèque is a fun intercative documentary video that imagines the impact of climate change on the daily life of families around the world. It allows adaptation of their energy consumption over the next 30 years to stabilize the climate and limit global warming by 2050. From Paris to Beijing, and from Bangalore to rural America and beyond, imagine the future on a planet that combines multiple lifestyles and sustainable energy consumption through the eyes of these families. Visit the AFSF Library page for instructions on how to sign up for the Culturethèque e-library. Bon apprentissage du changement climatique!