L'Arc de Triomphe Empaqueté : Tribute to Artists Christo and Jeanne-Claude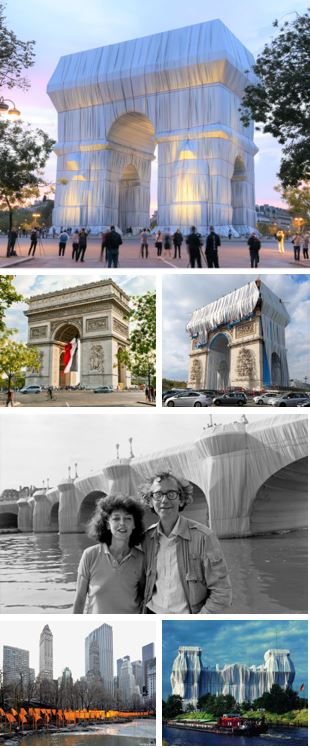 The Arc de Triomphe - one of the most famous monuments on Paris - is currently shrouded in fabric, as a tribute to the late artists Christo and Jeanne-Claude. The unveiling of the installation, officially titled L'Arc de Triomphe Empaqueté (L'Arc de Triomphe, Wrapped) comes 60 years after Christo first became enthralled with the idea of wrapping the monument, more than a decade after Jeanne-Claude's death and over a year since Christo passed away last May. The artists specialized in creating spectacular, monumental and ephemeral art installations in public spaces. Like many of their other projects, this one is intended to be a fleeting and engaging encounter with an environmental artwork that interrupts the experience of the everyday. The installation will be in place from September 18th to Oct 3rd and has drawn throngs of visitors and art lovers to see the work. During the weekend, Place de l'Étoile on the Champs-Élysées, where the monument is located, is closed to vehicle traffic in order for pedestrians to fully enjoy the space. Preparations for the temporary installation took three months including a small army of workers to install scaffolding and brackets around the top of the arch and pillars, to protect sculptures and decorative carvings. However, this time-lapse video shows that the installation's fabric was unfurled from the top and guided to the bottom of the monument in a single day.
Christo Vladimirov Javacheff and Jeanne-Claude Denat de Guillebon met in Paris in 1958, starting a relationship that led to marriage and one of the world's most famous artistic collaborations. They became internationally renowned for ambitious projects like The Pont Neuf Wrapped in Paris revealed in 1985, and The Wrapped Reichstag in Berlin 10 years later. In 2005, the artists unveiled The Gates, in New York City spanning 23 miles of walking paths in Central Park through 7,503 gates, each one supporting a fabric flag suspended like a curtain. Christo and Jeanne-Claude's place in art history is not without controversy. During their lifetimes the artists claimed their creations to be environmentally friendly given their ephemeral nature and use of recyclable materials. However, modern-day critics question the disruption to the environment caused during their installation. The mixed reception of the project in Paris has been no different. Even as crowds swarmed all 12 radiating avenues leading to Place de l'Etoile to catch a glimpse of the work, French journalist Christine Kelly posted a less than favorable review on twitter that sparked a massive debate. The vigorous public reactions that Christo and Jeanne-Claude's works have inspired for more than half a century only underscore the point that the meaning of civic art is never fixed but always subject to collective interpretation and the changing times.