Lady Liberty to Meet Her 'Little Sister'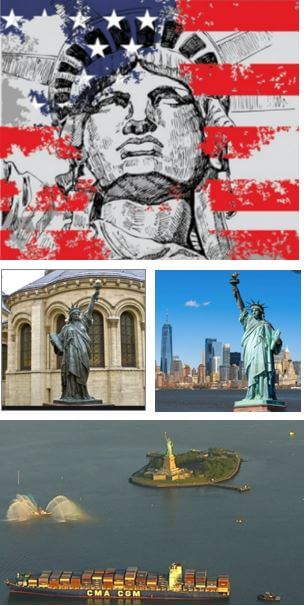 As the French and American Independence celebrations kick off the month of July, what better way to commemorate our shared values of freedom, democracy and equality than with Lady Liberty herself. One hundred thirty-five years after gifting the original Lady Liberty, France is sending a second, smaller Statue of Liberty across the Atlantic just in time for America's July Fourth festivities. She will make her first stop on Ellis Island in New York Harbor where she will stand facing her big sister from July 1-5 before travelling to Washington DC for a Bastille Day unveiling of her planned 10 year stay at the French Embassy. Her journey has been made possible by a partnership between the Embassy of France in the U.S., the Conservatoire National des Arts et Métiers in France, and the CMA CGM French shipping company that is helping transport the statue.
Standing at 9 feet and weighing nearly 1,000 pounds, the bronze replica is one-sixteenth the size of the original statue. Created with Frédéric-Auguste Bartholdi's original plaster model, the sibling statue has spent the past decade in Paris, welcoming visitors at the entrance of the Musée des Arts et Métiers (Museum of Arts and Crafts) in the 3rd arrondissement.
To celebrate the US arrival of the Lady Liberty replica, the Embassy of France and the French Cultural Services in the U.S created the #ViveLaLiberty contest. Artistic entrants have included many creative forms like drawings, paintings, songs, poems, sculptures, and dance. On July 12, just two days before Bastille Day, the Grand Prix Winners will be announced and celebrated.
You can track Lady Liberty's entire journey and follow all of the latest news, interviews and events here surrounding this great gesture of friendship between France and America!