La Fête de la Musique sur Culturethèque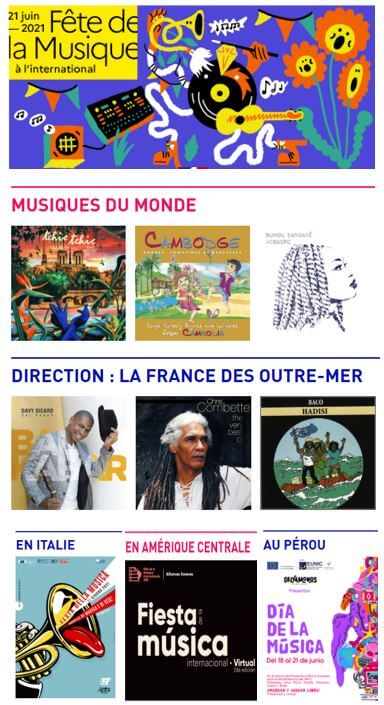 The largest international live music event in the world, Fête de la musique, also known in the English-speaking world as Music Day or World Music Day, is an annual celebration that takes place on June 21st, the day of the summer solstice. On Music Day, the citizens of a city or country are allowed and urged to play music outside in their neighborhoods or public spaces and parks. Free concerts are also organized, where musicians play for fun and not for payment. The slogan "Faites de la musique" (Make music), a homophone of "Fête de la Musique", is used to promote this goal. The first all-day musical celebration took place in Paris in 1982 and is now celebrated in 120 countries around the world.
Your AFSF Culturethèque e-library has joined in the celebration bringing music of the world directly to you. Listeners of all ages can explore music of different genres, artists, and countries. Practice your French comprehension skills while celebrating music. You can even sing along to practice your pronunciation too. The French language is highly melodic, and what better way to learn a melodious language than by singing?
If you are new to listening to music on Culturethèque, this informative YouTube video walks you through the many features you will find – explore the curated Culturethèque music collections and playlists or even build a playlist of your own. And this informative FluentU blog explains the many advantages of adding music to your French apprentissage (learning) toolkit while offering a few famous songs and artists to get you started.
Visit the AFSF Library page for instructions on how to sign up for the Culturethèque e-library. Bonne écoute, bons chant et célébration de La Fête de la Musique !


Tutorial: How to listen to music on Culturethèque